Your air conditioning filter is one of the most important parts of your HVAC system–yet many people forget about replacing it for weeks or months. This important part helps your air conditioning system run smooth and without problems or can cause numerous breakdowns if not replaced. ProSolutions Plumbing, Heating & Air Conditioning offers filter replacement and can help ensure that your energy bills stay low while keeping your AC from needing constant repair.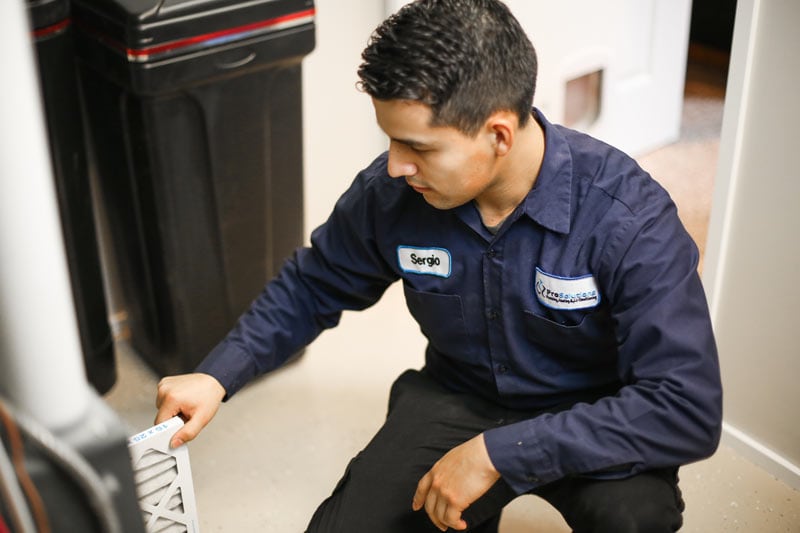 Need more detailed inspections and repairs? Our cooling contractors have you covered with our expert AC repair solutions.
How Often Should You Change Your AC Filter?
While there are many ideas on how often a filter should be changed for your AC to continue running at optimum efficiency, there is some standardization to ensure you don't change them too often (wasting money on filters) or not often enough (wasting money on energy.) Here are the guidelines that we find work best for most homes:
A single occupant or vacation home should change their filter every 6-12 months
An 'average' suburban home with no pets should opt for a filter change every 3 months
Average suburban homes with one pet or an allergy sufferer should change the filter every 2 months
Homes that include more than one pet should change the filter as often as every 20-45 days
Benefits of Regular AC Filter Replacement
Choosing to regularly have your air conditioning filter replaced can mean that your home sees a whole host of benefits. Dirty filters mean that your AC has to work harder to push air through your home, and the harder an AC works, the more you pay in energy.
Also, when your air conditioning system works hard for years on end, its lifespan is shortened and you will need to replace it sooner than you would have otherwise.
Additionally, filters can become a host to mould spores and other bacteria that will irritate lungs and potentially cause you to need mould restoration. Finally, regular replacement of AC filters will allow you to feel the cooling power of your unit without having to blast it on the highest setting.
The ProSolutions Advantage
When you choose ProSolutions Plumbing, Heating & Air Conditioning to help maintain your AC unit, you are helping to make sure that your filters are replaced regularly and properly. A big mistake that homeowners make is assuming that one air filter is equal to another–in reality, it is not and the cheaper one may not offer the same quality. Our technicians can help inform you of all your filter options and then install your choice of filter exactly as specified by the manufacturer. This will go a long way to helping you breathe easier, pay less in energy, and help to keep your air conditioning system working for years to come! Learn More.
Be sure to visit our reviews page to get a first-hand account of the top-quality customer service we offer with every appointment.