Dependable heating and cooling are key to exceptional home comfort in Edmonton. And, when it comes to reliability, RunTru AC and other HVAC products really shine. So, to help you stay cool in the summer and warm in the winter, our Edmonton HVAC experts have compiled the ultimate RunTru home comfort system. We'll recommend the top RunTru AC, furnace, and more.
These RunTru products are top-of-the-line and guaranteed to keep you and your family happy, healthy, and comfortable. Best of all, RunTru AC and other HVAC systems are reliable, efficient and affordable.
Our furnace and AC recommendations are based on industry knowledge and expertise. But, more importantly, they're based on personal experience. After all, the team at ProSolutions are homeowners too!
Ready to discover the ideal heating and cooling system for your home? Here's our perfect RunTru home comfort package recommendation.
RunTru vs Trane – What's the Difference?
Is RunTru a Good Brand?
What is the Ultimate RunTru System?
What is the Best RunTru AC?
Which RunTru Furnace Should I Choose?
What's the Best RunTru Heat Pump?
What is a heat pump and how does it work?
RunTru vs Trane
Many people wonder – is RunTru the same as Trane?
The answer is, no. RunTru and Trane products are not the same. But the two are closely related – RunTru products are built by Trane.
While RunTru is one of the newest heating and cooling brands on the market, Trane has more than 120 years of experience in the HVAC industry. This experience is transferred to RunTru products, for maximum performance and efficiency.

Is RunTru a Good Brand?
Backed by the experience and expert engineering at Trane, RunTru is one of the best heating and cooling brands out there.
In fact, RunTru AC and furnace systems are recommended by HVAC specialists, like ProSolutions PHAC, because of their dependability and high-quality components. When installed properly, your RunTru air conditioner, furnace, and other home comfort appliances will be reliable and long-lasting.
Plus, did you know – popular AC and furnace brands like RunTru and AirEase are made in the same factories as Trane and Lennox? Therefore, they have the same quality components but at a more reasonable price point.
All RunTru systems are also backed by a limited parts warranty. With RunTru's standard warranty, you can rest assured that the functional parts in your unit are covered. In addition, RunTru systems are built in the US, meaning all appliances, and their parts, are readily available in Alberta.
Looking for more top AC brands? Check out what our AC experts recommend – Best Air Conditioner Brands for Edmonton homes.
Recommended Home Comfort Equipment
For homeowners in Edmonton, the dream home comfort system we recommend includes three products.
RunTru air conditioner
Furnace
Heat pump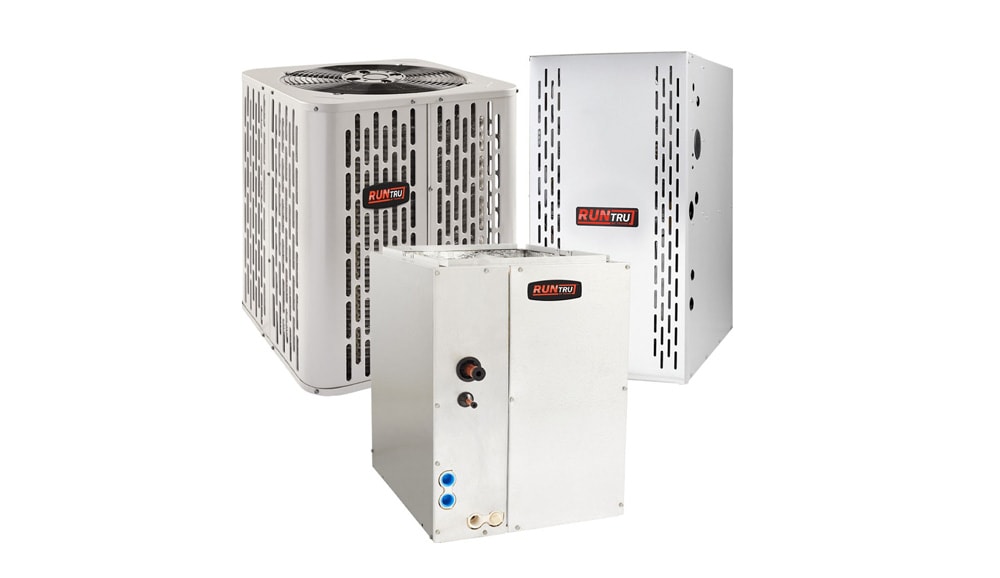 Why do we recommend all three components?
Well, most homeowners, and especially those in Edmonton, would agree that both an AC and furnace are needed to ensure home comfort. An air conditioner to cool your home in the summer, and a furnace to keep it warm in the winter. But, did you know that your furnace also assists your AC?
That's right – your air conditioner uses the blower in your furnace to cool air and circulate it throughout your home. Therefore, for your AC to work efficiently, you'll need a high-quality RunTru furnace to accompany it.
What about the heat pump?
While not in all homes, heat pumps are becoming more and more popular in Edmonton. Why? Because a heat pump will assist your furnace. This helps create a dual system that is more energy-efficient and, therefore, saves you money on your utility bill. As a result, adding a heat pump to your home comfort system will result in an extremely effective and efficient complete home comfort system.
Now, let's take a look at the specific RunTru AC, furnace and heat pump we recommend.
RunTru AC
Our recommendation for the best AC – the RunTru A4AC6 Air Conditioner.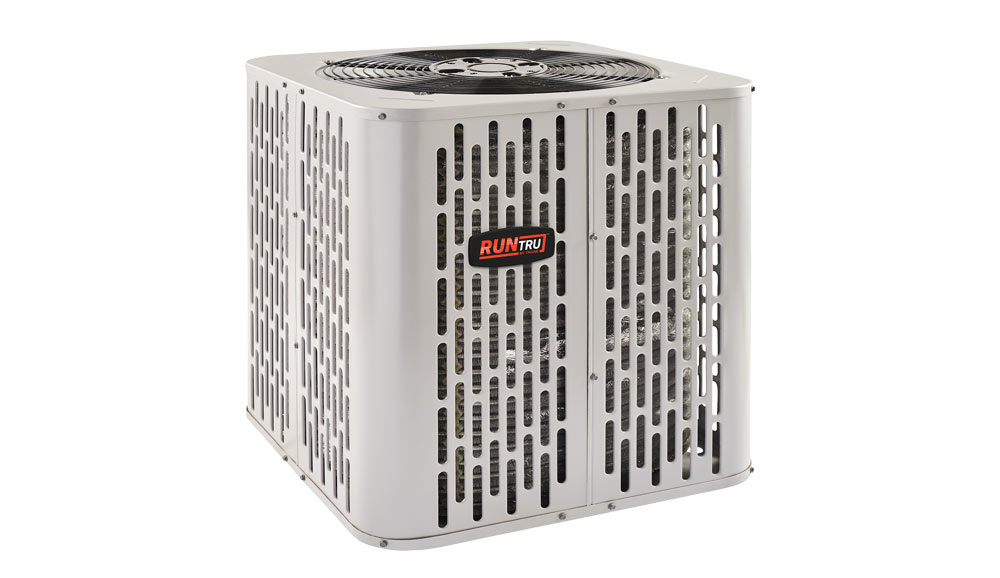 This AC unit is highly efficient, with a SEER rating of 16. This means your home will be perfectly cool at all times – without running up your utility bill.
The A4AC6 is also extremely quiet (with a decibel rating of only 76 dB) and energy-efficient thanks to its scroll compressor. A scroll compressor has only two moving parts. This means that it can run more smoothly and, therefore, more quietly than other ACs. With fewer moving parts, scroll compressors are also more reliable, and less likely to have mechanical issues.
The RunTru A4AC6 AC also includes all-aluminum coils, a feature that makes it more resistant to corrosion.
In addition to being backed by quality components and manufacturing, the A4AC6 comes standard with RunTru's 5-year limited parts warranty.
Tight on space? That's no problem for the A4AC6. Smaller size options are available for tighter spaces.
If you're in the market for a new AC, be sure to check out our AC Buying Guide. Our air conditioning experts cover everything you need to know to find the perfect AC for your home.
RunTru Furnace
For homeowners in Edmonton, gas furnaces are the most common and come highly recommend.
One of the best gas furnaces on the market – the RunTru A952V Furnace.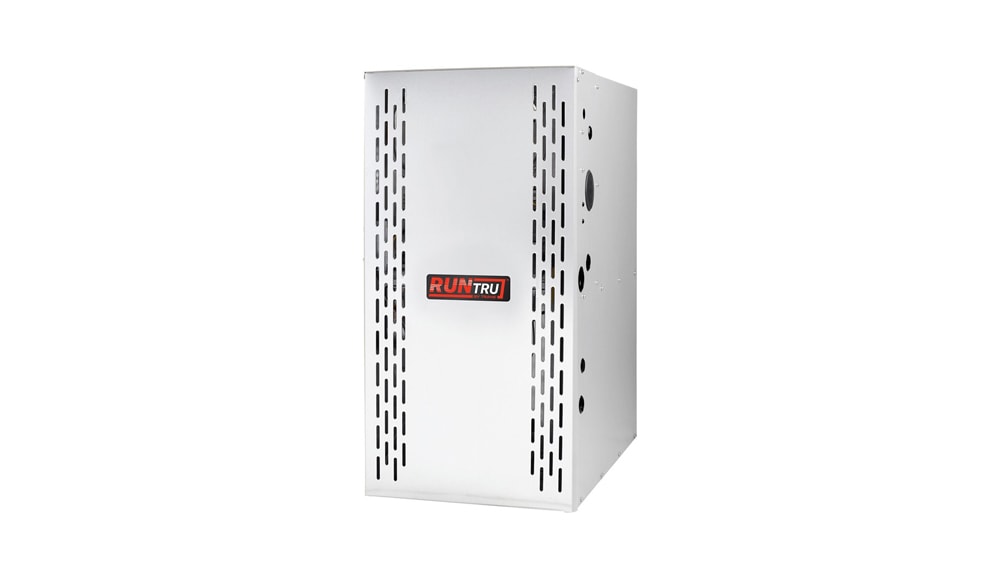 This furnace is highly dependable and extremely efficient. Better yet, it comes at an exceptionally reasonable price point.
While most homes in Edmonton have furnaces with AFUE ratings of around 92%, the RunTru A952V furnace has an AFUE of 96%. As a result, it will efficiently heat your home, even during the coldest Edmonton winters.
As you may have guessed, the higher the AFUE the less energy your furnace needs to use to heat your home. Therefore, AFUE, or Annual Fuel Utilization Efficiency, is an important factor to consider when choosing a new furnace. AFUE measures the amount of fuel that is used by your furnace to produce heat, versus what is lost. Thus, an AFUE of 96% means that just 4% of the fuel used by your furnace is being lost.
The RunTru A952V also has a variable speed motor, meaning that it will produce a more accurate and consistent temperature in your home.
Finally, stainless steel primary and secondary heat exchangers conduct heat faster, resulting in even more energy savings. Stainless steel is also resistant to corrosion and can withstand higher temperatures than other common materials. This means that your A952V furnace will be more reliable and have a longer lifetime.
The A952V is Energy Star® certified and, of course, comes with RunTru's limited parts warranty. Plus, register your furnace and receive an extended 10-year warranty on functional parts.
RunTru Heat Pump
Our ideal RunTru home comfort system wouldn't be complete without the RunTru A4HP6 Heat Pump.
This appliance offers additional efficiency so you can further reduce your carbon footprint and save big on your energy bill!
The RunTru A4HP6 heat pump has a SEER rating of 16 and uses a scroll compressor. As mentioned above, this compressor makes the unit reliable, efficient and quiet (76 dB). Plus, with all-aluminum coils, it is a highly durable appliance.
The A4HP6 heat pump can also be purchased in smaller sizes perfect for tight spaces.
What is a Heat Pump and How Does it Work?
We've recommended a RunTru heat pump to take your home comfort to the next level. But, you might be wondering – what is a heat pump and how does it work?
A heat pump is a home comfort appliance that is installed outside your home, much like an air conditioner. A heat pump can be used to both heat and cool your home. It does this by extracting heat from the air. To heat your home, the heat pump pulls warm air from outside and brings it in. To cool your home, it extracts the hot air from inside and forces it out.
Now that you know what a heat pump is and how it works, you're probably thinking – do I really need a heat pump?
The truth is, it's not necessary in all cases.
Rather, when a heat pump is paired with a furnace it results in a highly efficient system that offers optimum performance. When the weather is mild, the heat pump will heat your home. When it gets too cold, your furnace will automatically take over. Thus, the two work together to greatly reduce your energy bill.
Installing Your RunTru Home Comfort System

Want to install the perfect RunTru home comfort system in your home?
A top-of-the-line and highly efficient system, like the one recommended above, should be installed by an HVAC professional. Furnace, heat pump, and AC installation can have a significant impact on the efficiency and lifespan of these appliances.
If installed improperly, or not optimally calibrated for the climate in Edmonton, your system will not be nearly as energy-efficient as it could be. On top of this, when installed incorrectly, the system could have major issues, leading to costly repairs!
ProSolutions PHAC can help.
Our professional heating and air conditioning team has extensive experience working with RunTru. Plus, as locals, we are intimately familiar with the conditions in Edmonton. Therefore, we can perfectly calibrate your system for the perfect temperature inside your home during the hottest and coldest parts of the year.
Want a quote before you begin? Give us a shout!