Looking for a new home comfort system? Look no further than Amana® HVAC. Amana® provides some of the best heating and cooling equipment on the market today. This brand comes highly recommended by homeowners and Edmonton heating and air conditioning specialists alike.
But what components make up an ideal HVAC system from Amana®?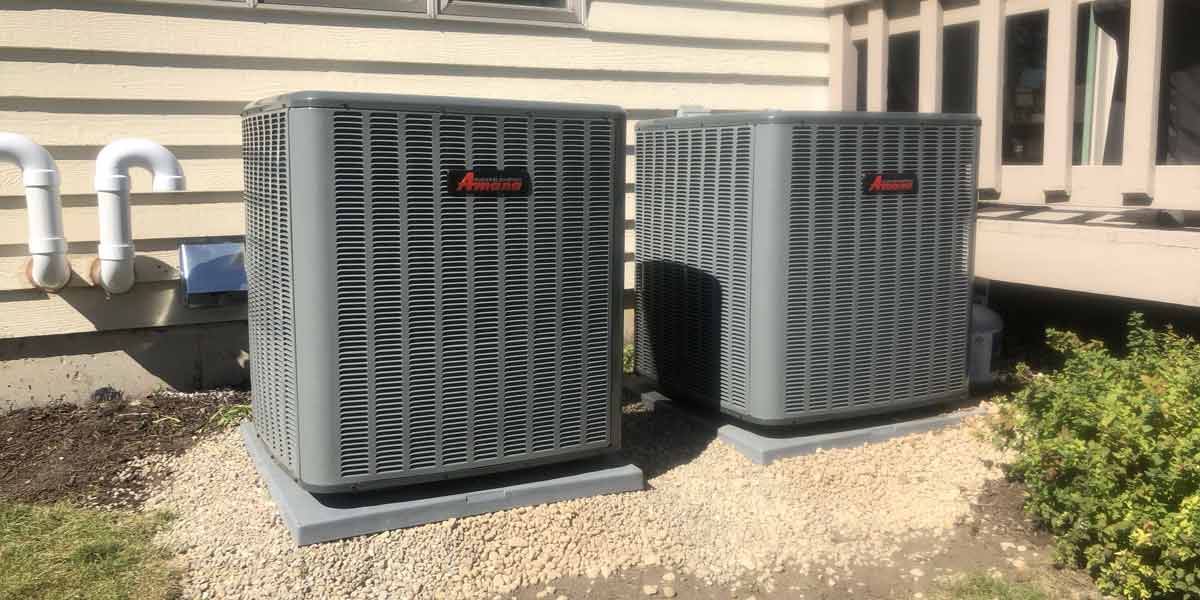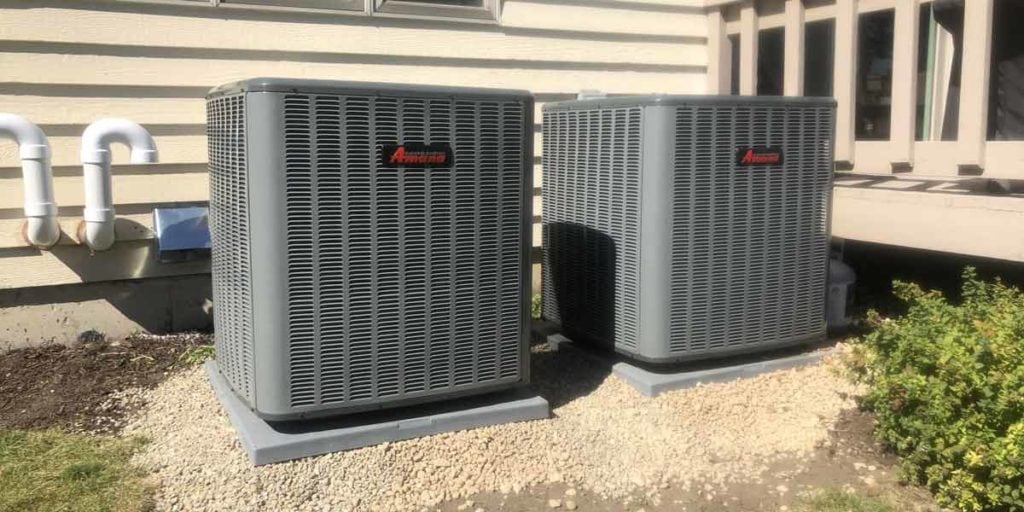 Our heating and air conditioning experts are here to share their insight! As HVAC professionals who have been maintaining and installing AC and furnace equipment in Edmonton for over 35 years, we know a thing or two about what makes the perfect HVAC system. Plus, our technicians are local homeowners too! So, not only can they speak from a professional perspective but from personal experience as well.
Ready to discover your ideal home comfort system? Here's what you need to know about Amana® and what makes the perfect Amana® HVAC system.
Is Amana® a good brand?
Who makes Amana® HVAC?
What makes the perfect Amana® home comfort system?
What is ComfortBridge™ technology?
Is Amana® a good brand?
Amana® is an extremely well-known and popular brand in North America. But, is Amana® a good brand?
The answer is – yes. Amana® is a good brand for many reasons.
First and foremost, Amana® HVAC systems are durable and energy-efficient. This means you'll spend less on repairs and energy when you install an Amana® home comfort system. Better yet, these high-quality appliances will last you for years to come.
Amana® AC and heating equipment is also designed and manufactured in the US. As a result, units and parts are easy to find in Alberta.
As experienced HVAC professionals, the team at ProSolutions highly recommends Amana® as your HVAC brand of choice.
Who makes Amana® HVAC?
Amana® is made by Daikin Industries LTD. Amana® was acquired by Daikin Industries in 2012.
Many people will also recognize the brand name Goodman®. Edmonton homeowners often wonder – are Amana® and Goodman® the same company?
The answer is – no. While Goodman® is related to Amana®, they are not one and the same. Rather, Goodman® and Amana® are related through Daikin Industries which is a parent company to Goodman®.
Ideal Amana® HVAC System
Ready to learn more about the ideal Amana® home comfort system?
There are several components to the perfect HVAC system. Most commonly, homeowners will buy an AC, furnace, heat pump, and smart thermostat. However, there are also ways to improve your home comfort with the help of additional indoor air quality components.
Let's take a look at our top-rated picks for Amana® brand products.
Amana® AC
As an experienced air conditioning contractor, we suggest the Amana® AVXC20 as an ideal AC.
What makes this AC so great? Let's take a look.
The Amana® AVXC20 is a high-efficiency air conditioner with up to 24.5 SEER. It is one of the most efficient AC units on the market today. As a result of its high SEER rating, Edmonton homeowners can expect lower operating costs – meaning you'll save money on your utility bill each month!
This air conditioner also has a variable-speed compressor. As a result, very small adjustments in speed can be made. Unlike single-stage compressors that only operate at two speeds – on and off – a variable speed unit allows for more precise temperature control and better efficiency. Ultimately, this leads to a more comfortable environment inside your home.
The Amana® AVXC20 is as quiet as they come. Amana® has implemented several noise-reducing technologies in this AC unit to ensure your home is comfortable and quiet.
When you choose an Amana® AC, like the AVXC20, you also receive extensive warranty coverage. Your AC compressor is covered by a lifetime limited warranty. This means if the compressor fails it will be replaced at no charge (as long as the unit is still being used at the original homeowner's residence). As well, all additional functional parts are covered by a 10-year limited warranty. This warranty demonstrates Amana®'s commitment to quality and dependability.
The Amana® AVXC20 AC also offers advanced diagnostics and is compatible with ComfortBridge™ technology. Learn more about Amana® HVAC ComfortBridge™ technology below.
Amana® Furnace
When it comes to selecting a furnace, the Amana® AMVM97 gas furnace is ideal for homeowners in Edmonton.
This high-efficiency furnace is rated up to 98% AFUE (Annual Fuel Utilization Efficiency) and offers ultimate energy savings. This rating means that 98% of the gas used by the furnace is converted to heat. So, while you're reducing your carbon footprint you're also saving on your utility bill.
Like the Amana® AC, this Amana® furnace offers variable speed precision for a more comfortable home. The variable-speed motor also allows the furnace to operate more quietly than a single-speed unit.
In addition to being extremely efficient, the AMVM97 gas furnace is exceptionally quiet. It also has a stainless steel heat exchanger and comes with integrated ComfortBridge™ technology.
The AMVM97 is covered by Amana®'s limited warranty, including a lifetime replacement warranty and a 10-year warranty on functional parts.
Amana® Heat Pump
Your ideal HVAC system wouldn't be complete without a heat pump.
The Amana® AVZC20 heat pump is the perfect addition. This high-efficiency heat pump offers up to 21 SEER, providing reduced energy consumption and operating costs.
This heat pump is also compatible with ComfortBridge™ technology and has a variable speed compressor for optimum performance.
Like the Amana® furnace and air conditioner recommended above, this heat pump is extremely quiet. And, as with any Amana® HVAC product, you know you're covered with a lifetime replacement and limited functional parts warranty.
Why are the benefits of a heat pump?
Not every home in Edmonton has a heat pump. However, heat pumps are becoming more popular due to their ability to further maximize efficiency.
A heat pump can work as both a heating and cooling system and is much more efficient than most home comfort appliances. Therefore, many Edmonton homeowners use heat pumps in addition to their furnaces.
The heat pump effectively heats their home while the temperature outside is still mild. It does this using much less energy than a gas furnace. Then, when the temperature plummets, the furnace takes over to ensure a warm and cozy home.
Amana® Thermostat
To integrate all of your Amana® home comfort appliances, you'll need a smart thermostat.
The ComfortNet™ CTK04 is a digital thermostat that allows you to effectively control the temperature in your home. This thermostat will connect your air conditioner, furnace, and heat pump, allowing you to control all of these appliances at the touch of a button.
This smart thermostat also monitors your HVAC system. It will identify and alert you to any possible issues. This can be extremely helpful in reducing maintenance and repair costs, as you will be alerted to issues before they become a major problem.
Your ComfortNet™ CTK04 thermostat will also notify you of standard maintenance requirements. For example, when to change the filter or conduct preventative maintenance.
Finally, the ComfortNet™ CTK04 will also assist you in creating an automated home comfort program. It will auto-adjust temperatures and settings as it learns more about your daily habits.
Take Your Amana® HVAC System to the Next Level
The ability to efficiently and accurately control the temperature in your home is one thing, but fresh, clean air is another. If you're looking to take your home comfort to the next level, Amana® offers several products to help you create superior indoor air quality in your home.
Amana®'s indoor air essentials include air filtration and purification units, as well as humidifying and dehumidifying appliances.
For ultimate home comfort, consult your local Edmonton HVAC specialists. The experts at ProSolutions can provide product details and help you decide which air quality products will work best for you.
What is ComfortBridge™ technology?
ComfortBridge™ technology monitors and connects all of your Amana® HVAC appliances – for ultimate home comfort.
ComfortBridge™ technology consistently gathers data from your home comfort system. It then uses this information to make automatic adjustments so that your appliances are performing at optimal efficiency.
This technology is integrated into select Amana® appliances. It works with most smart thermostats, including the ComfortNet™ CTK04.
Ready to Install Your Dream Amana® HVAC System?
The real key to a highly efficient home comfort system is installation.
Although Amana® HVAC equipment is designed to offer superior energy efficiency, the equipment must be properly installed for homeowners to experience any benefits. Proper sizing is also important.
Not sure how to choose the right air conditioner, furnace or other home comfort system? Call the HVAC pros as ProSolutions PHAC!
Our trained professionals will know just what you need. As Edmonton's Premier Dealer for Amana® air conditioners, furnaces and other home comfort equipment, we know the ins and outs of Amana® products.
We'll help you select the perfect system for your home. Plus, our extensive local experience will ensure your HVAC system is perfectly installed and calibrated for Edmonton conditions.
Call us today to learn more about Amana® products and how we can help you create the most comfortable home environment!