Summer is just around the corner! You might be ready for the hot weather, but is your AC? To guarantee your air conditioner will run smoothly when the time comes, you'll want to do some DIY AC maintenance.
There are several steps that homeowners should take to prepare their air conditioner for summer. While you can hire an Edmonton air conditioning contractor to get your AC ready (we'd be happy to do the job for you), you can also take the DIY AC maintenance route.
To help you out with your DIY endeavour, our expert air conditioning service team has put together a list of the most important AC maintenance tasks you should undertake before summer arrives.
Keep in mind – although ensuring your AC is in top working condition will help with energy costs, starting up your central air conditioner can mean higher utility bills. So, once your DIY AC maintenance is complete, follow the additional tips below for more energy savings.
Let's get started!
How do I get my air conditioner ready for summer?
What are ways to save energy in the summer?
Air conditioner tune-up special pricing
AC Maintenance Steps to Prepare Your AC for Summer
A central air conditioning unit that has been sitting all winter (especially in Edmonton), will need some TLC before it can effectively run come summertime. These DIY AC maintenance steps will help you get your air conditioner ready. More importantly, completing these tasks now will ensure you aren't stuck with AC repair issues that require professional attention during peak season.
Step 1: Turn The Power to Your AC Off
First thing's first, make sure the power to your air conditioner is turned off before you begin any AC maintenance. The switch for your air conditioner will likely be found in your main breaker box or within a separate breaker box located outside next to your heating and cooling unit.
Turn off all power to the unit and allow it to sit for about 30 minutes. This will ensure that all the power held in the capacitor has time to drain. In general, when you're completing your DIY maintenance, try to avoid touching any electrical components.
If you're unsure about how to turn the power to your AC off, contact your local Edmonton heating and cooling professionals.
Step 2: Clean or Change the Filters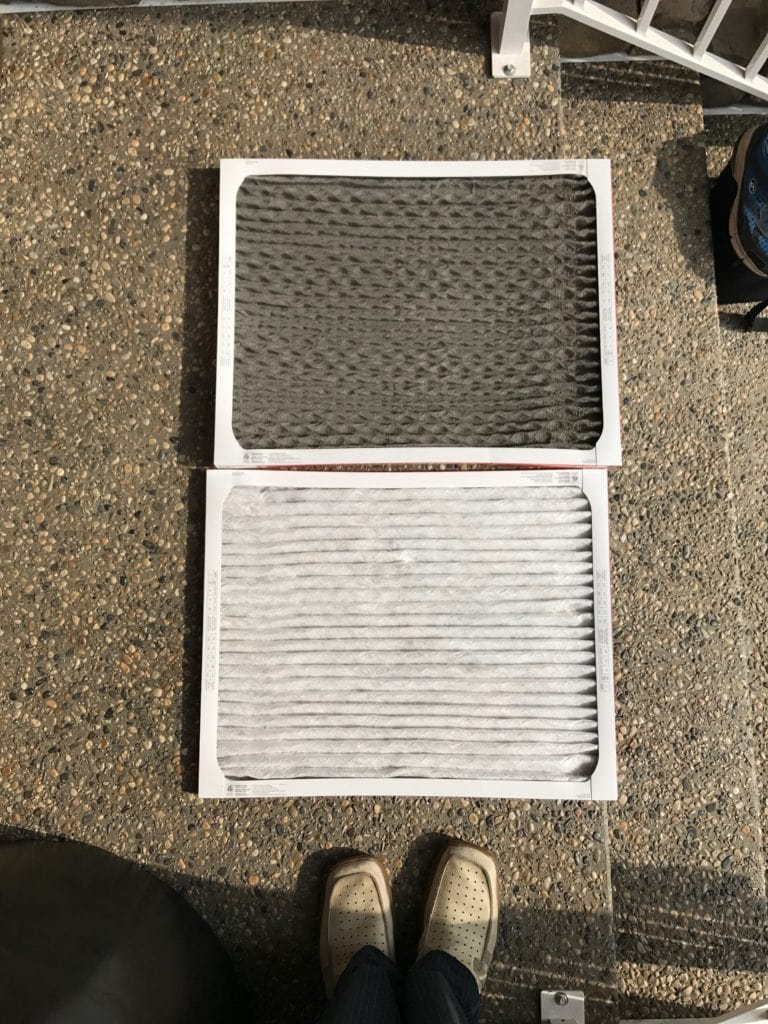 Be sure to clean or replace all of the filters in your heating and cooling system. This should be done throughout the year as well – whenever the filters look dirty or clogged (usually every few months or so). This step is important because it ensures that you have clean, filtered air coming into your home and that airflow isn't restricted. A restriction in airflow can cause your unit to have to work harder, resulting in a higher utility bill, and may even lead to a system breakdown.
Step 3: Clean the Outside of the AC Unit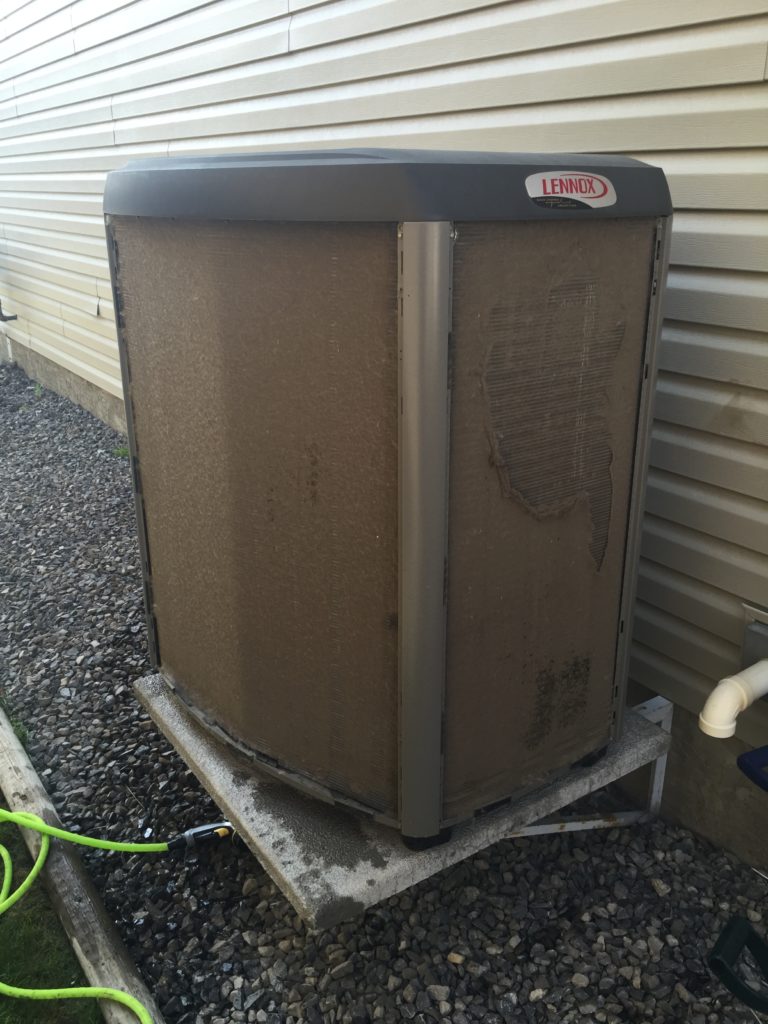 It's likely that after sitting all winter your AC unit will be covered in dirt, dust, mud and other debris. It's important that you clear this debris, especially from the coils, as it can obstruct airflow.
Start by clearing any debris from around the unit. For instance, remove weeds, leaves and other debris that could obstruct airflow. Once the concrete slab is clear of debris, clean the coils on the outside of the unit. To do so, you can simply spray the outside of the unit with a hose. Or, if the build-up is caked on, you may want to use an air conditioner cleaning product. Cleaning the coils on the outside of your AC unit will help it to work more efficiently, meaning a lower utility bill and better air quality.
Important Note: Before you spray or wipe your air conditioner, be sure the power to the unit is off.
Pro Tip: To help protect your air conditioner during the winter, and to make your DIY AC maintenance job easier in the spring, cover the unit with a tarp or AC cover.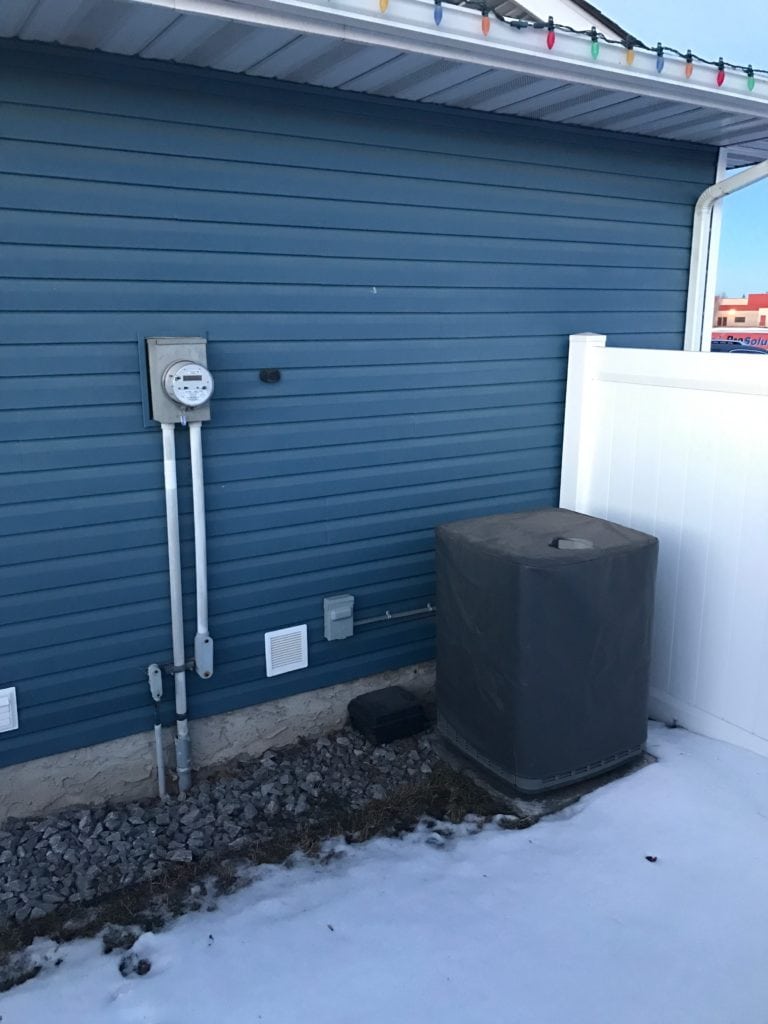 Step 4: Clean the Inside of the Air Conditioner
Next, you'll want to clean the inside of the unit.
First, remove the protective panels on the top and side of the air conditioner. This will allow you to clean the coils inside. Again, it's important that the power is turned off before doing this to ensure your safety and the safety of the unit.
Clean the fins and the fan blades using a soft brush, rag or a vacuum. Be sure to be gentle so you don't damage the fins. You can also use a hose to spray out any heavy dirt and debris. Again, make sure you're gentle with the spray to avoid damaging any components. As well, do not flood the unit or spray any electrical elements or the fan motor. To avoid this, cover these parts with a garbage bag.
For professional air conditioner cleaning Edmonton, contact the team at ProSolutions PHAC – we'd be happy to help!
Additional DIY AC Maintenance Steps
These additional steps will also help to ensure that your AC unit is running efficiently and that your utility bill is as low as possible.
Make sure the concrete slab is level – a slab that isn't level will cause your unit to have to work harder. If the slab has moved over the winter, adjust it so that it is level.
Check your condensation line – this can become clogged and cause damage to your unit. Locate the pipe and make sure that it's draining properly.
Check the insulation on your coolant lines – these coolant lines will likely be covered by foam insulation. This insulation should be in good condition and completely covering the lines to ensure they are not losing heat. If you find the insulation is cracked or missing, you'll want to replace it.
After you've completed the steps above, your AC should be ready to go. Start it up and test it out to make there aren't any repairs that need to be made by a professional. If you have any concerns, contact an AC repair professional in Edmonton right away.
To help with ongoing AC maintenance, ProSolutions offers AC maintenance plans. Regular maintenance will ensure your AC is running efficiently throughout the season, reducing your energy consumption and your utility bills. It will also extend the lifetime of your air conditioning system, by guaranteeing that it is in top condition throughout the year.
Please Note: Before you start up your AC unit, be sure the unit is completely dry.
Air Conditioner Energy Saving Tips
Many of the DIY AC maintenance tips above will help you conserve energy by ensuring your AC unit is running efficiently. To further help you reduce your energy consumption and utility bills throughout the summer, here are some additional tips:
Upgrade your AC unit to a high-efficiency model.
Install a programmable thermostat. This will optimize the temperature in your home throughout the day and make adjustments based on when you're home and away.
Keep the thermostat at a steady temperature. Constantly adjusting the temperature will force your unit to work harder, increasing energy consumption.
Use fans (the thermostat fan and ceiling fans) as much as possible to help circulate cool air throughout your home. This will help to keep your house cooler and reduce any hot spots.
Replace old windows with more energy-efficient windows.
Close your blinds and windows during the day to help keep out the heat.
Ready to get a jump start on preparing your AC for summer? Whether you want to complete the DIY AC maintenance steps above or hire an AC professional to do it for you, now is the time!
Besides feeling prepared, completing this AC maintenance early will guarantee you beat the summer rush. Leaving these tasks until the last minute can mean you run into issues that require the help of a professional only to find out that it's already busy season!
So, skip the wait and complete your AC maintenance and repairs now. With our early bird pricing, not only will you be on the ball but you'll save money while doing it!
ProSolutions AC Tune-Up Special
PROMO HERE