You've probably heard about a furnace shortage in Edmonton. Families facing cold nights as they're forced to go without a furnace. But, what is the truth about the situation? Is there really a COVID furnace shortage in Alberta?
As a leading plumbing and heating contractor in Edmonton, we're here to address the topic. The truth is – there is no COVID furnace shortage in Edmonton. That being said, the situation does have some truth to it. Therefore, we want to separate fact from fiction.
The current problem has to do with very specific furnace models. These models are not readily available to purchase or order. However, have no fear, there are enough furnaces to go around and no one in Edmonton will have to survive the winter freezing inside their home.
The Truth About the Furnace Shortage in Edmonton
Why are some furnaces unavailable?
The United States makes most furnaces today and Mexico makes most furnace blower motors. In fact, Mexico makes three out of the four major brands of motors. Unfortunately, due to the worldwide COVID-19 pandemic, manufacturing and logistics have been impacted in many cases. These setbacks have impacted the furnace market causing shortages of some brands in certain areas.
What happens if I need a new furnace?
You can rest assured that if your furnace breaks you will be able to get a new one, despite the fact that the manufacturing and shipment of some furnace brands have been impacted by COVID. If you are looking for a standard furnace that meets efficiency regulations in Edmonton then you may have to be flexible when it comes to the band and model. However, there are many effective and efficient models on the market that will be available to you. This includes most high-end furnaces. If you're opting to purchase a high-end unit then you will likely be able to find the exact make and model of your choice.
If you need a new furnace installed and had a particular brand and model in mind but are unable to find it due to these manufacturing delays and shipping, check-in with your local professional heating service provider. They will be able to help you find a similar product that suits your needs.
The ProSolutions Assurance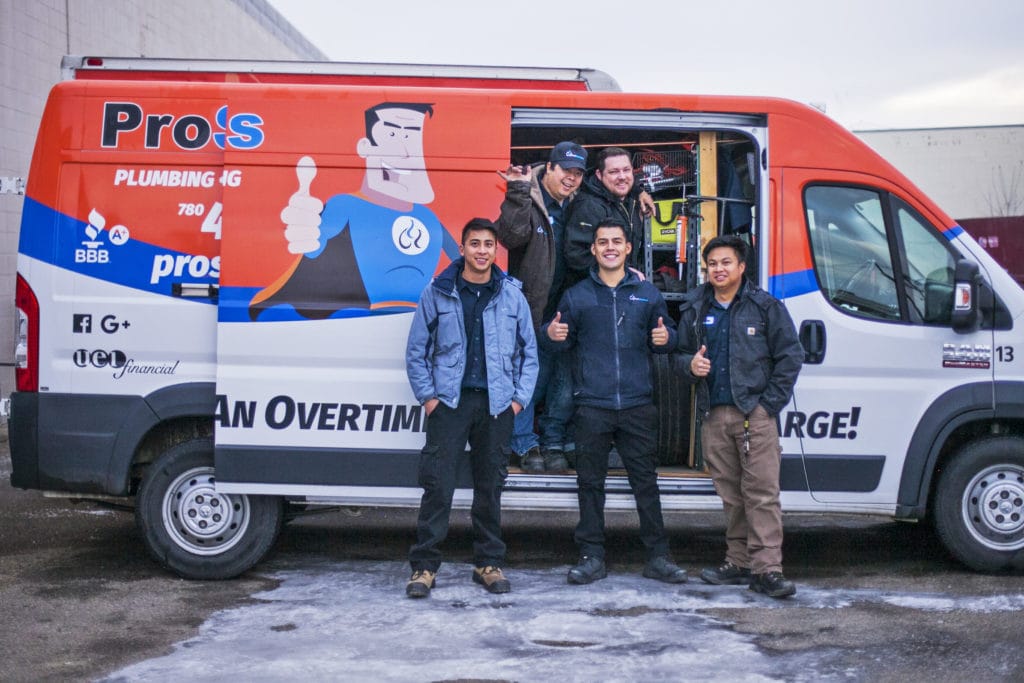 At ProSolutions, we know a thing or two about furnaces. Whether we're able to get you the exact brand and model you're looking for or not, our trained technicians will ensure that you and your family are warm and comfortable this winter. Our team will guarantee we get you the best possible furnace for your home.
From our experience, there are four top furnace brands, all of which offer efficient and reliable heat. These brands are all excellent options and are the exact products we install in our own homes. As this manufacturing delay continues, we will ensure that you receive the highest quality furnace from one of these brands. We refuse to offer our clients low-quality products and stand by this assurance even in difficult times.
Any good heating company should have proper solutions in place to address this concern about a COVID furnace shortage in Edmonton. And, as one of the best heating companies in Edmonton, we're here to tell you that there is nothing to worry about. If you're in need of emergency furnace repair in Edmonton, and you decide that you'd like to wait for a particular furnace, ProSolutions has a plan for temporary emergency repairs. We will get your heat back up and running in no time. Our team is standing by to help you with whatever you need to be comfortable throughout the winter.
If you need a new furnace but are unsure of what type or features to look for, our team can help with that too!
Key Furnace Features for 2020
There are several key features you should look for when deciding on a new furnace. Many furnaces in 2020 also have new technological improvements. Keep an eye out for these new tech features as well.
Motor Types
There are two common types of furnace motors that are available. These blower motors include the PSC (permanent split capacitor) and ECM (electronically commutated motor).
The major difference between these motors is that the PSC has one speed, while an ECM motor can offer variable speed functionality. That is, when a furnace with a PSC motor is running, it is blowing air at full speed. PSC motors offer on and off functions only, with no in-between. ECM motors, on the other hand, allow the furnace to regulate airflow, in order to efficiently reach the desired temperature. The motor's output is adjusted based on signals from a controller or the furnace can be programmed to cycle through a range of speeds. The motor will gradually increase in speed when working to reach a desired temperature and then progressively decreases its output until it comes to a soft stop.
An ECM motor is therefore much more energy-efficient, allowing you to save 25% to 75% in operating costs. While PSC motors were standard in the past, furnace manufacturers have replaced this old technology with the new, and more efficient ECM motor.
ECM Motors
In addition to being more energy-efficient and cost-effective, ECM motors can help to reduce dry air, provide better air quality, and prevent inconsistent heat distribution throughout your home.
PSC Motors
When it comes to humidity, a PSC motor may dry out the air in your home. Due to the fact that PSC motors only run at full speed, the air is often heated too quickly to allow for the correct humidity to be reached. In addition, this type of motor may result in hot and cold spots throughout your home.
ECM vs PSC Motors
In terms of air quality, ECM motors offer better air quality because of the progressive airflow that they provide. To effectively filter the air coming into your home, airflow is required through the filter. Since an ECM motor provides longer periods of airflow, it allows the filter to trap dust and particles more effectively. On the other hand, airflow stops suddenly when a PSC motor is done heating. As a result, all air filtration will stop as well. At this time airborne dust and other particles will collect in the air inside your home.
When purchasing a new furnace in 2020, it's important to ensure that it has an ECM motor, as this will reduce your energy bill and provide better air quality in your home.
Advanced Furnace Features for 2020
Many heating and cooling systems have new technological improvements. In 2020, look for the following advanced features on new furnaces:
Smart technology, including Bluetooth capabilities. For example, ComfortBridge™ offers technology within the unit to continuously monitor and customize system performance.
Dehumidification capabilities
Stainless-steel heat exchanger
With these key features in mind, ProSolutions will work with you to find the perfect furnace for your household. Regardless of the delayed manufacturing and shipping of particular models, we will ensure that no COVID furnace shortage in Edmonton gets in the way of providing our clients the best possible product and a warm and comfortable home for the winter.