Do you have a boiler in your home? Are you thinking about purchasing one? Whether you already have a boiler or are considering installing one, it's helpful to know what types of problems and boiler repair scenarios you might encounter.
At ProSolutions PHAC Inc., we've seen it all – from simple boiler repair to more complex issues. So, to help you with your boiler problem and to provide insight for those deciding whether a boiler is right for their household, we've put together a guide to boiler repairs.
Here's what you need to know!
Don't see the answer to your questions here? Give us a shout! We're happy to provide advice and solutions for all your boiler repair needs.
What is a boiler?
Is a boiler and a furnace the same thing?
What are common boiler problems?
How do I fix my boiler?
Who do you call to fix a boiler?
What is a boiler?
A residential boiler is an appliance that heats a home using hot water. Although less common nowadays, some boilers use steam, rather than hot water.
To heat a home, a boiler first heats water that is stored inside a tank. It then distributes this water (or steam) to various areas of the house using pipes, radiators and radiant floor heating systems. When the water is no longer hot enough to provide heat, it is forced back to the boiler to be heated again.
Boiler vs furnace
While a boiler and a furnace share the same purpose – to heat your home – they do so in very different ways.
A boiler heats a house using hot water that is pumped through pipes, radiators and radiant floor systems. On the other hand, a furnace uses hot air to heat a home. A furnace heats air and distributes this hot air to various rooms of your house using ductwork and vents.
While you can save money in energy costs with a boiler vs furnace, professional boiler installation will be more expensive than a furnace installation.
Common boiler problems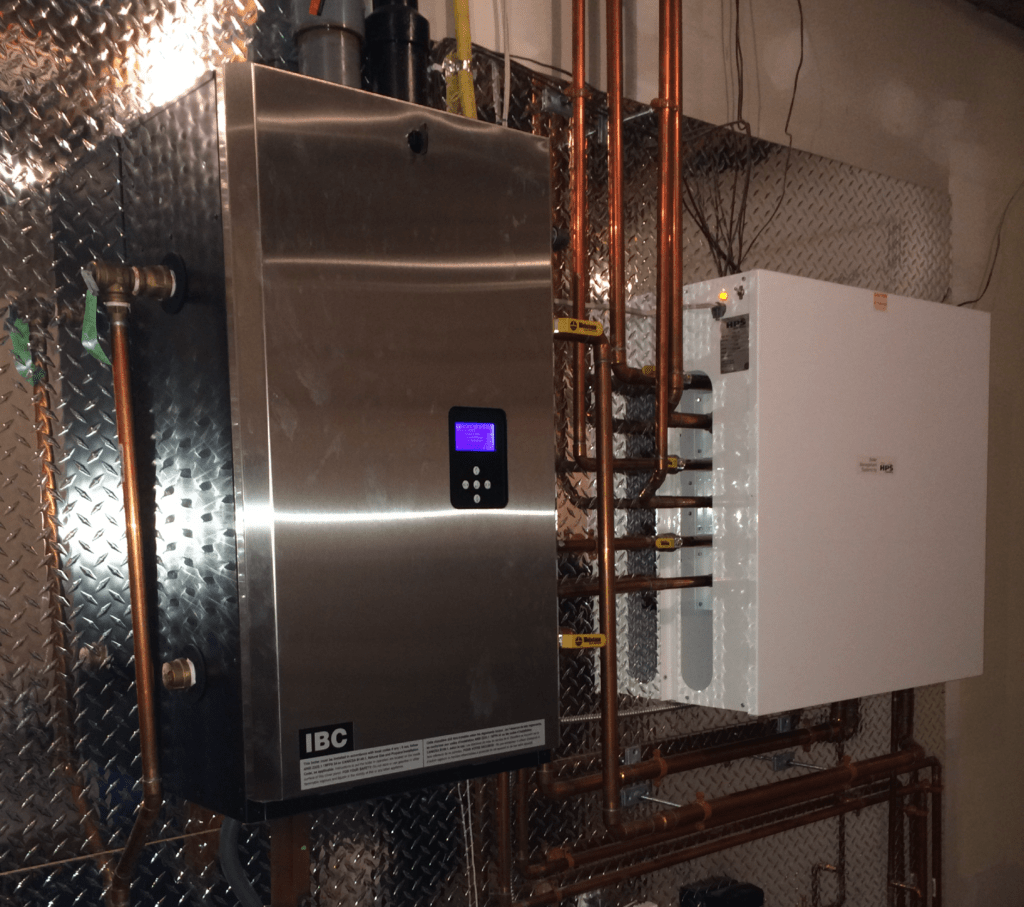 Like any appliance, several problems can occur with a boiler. While some of these issues will require boiler repair by a professional, other issues can be fixed by a homeowner.
The most common boiler problems include:
Low water pressure
No heat coming from the radiators
Banging or gurgling noises
Pilot light going out
Pilot light not blue
Leaks
Frozen condensate pipe
Boiler not responding to the thermostat
Although these problems don't necessarily mean you'll need a new boiler, they are common signs that you require boiler service or repair.
If you're having a problem with your boiler and want it identified and fixed quickly, contact ProSolutions Plumbing, Heating & Air Conditioning. Our professional technicians will determine the cause of the problem and whether a simple boiler repair or a full replacement is needed. Of course, our team will do everything they can to help fix the problem before considering replacing your boiler.
Troubleshooting for boilers
Is your boiler showing signs that it needs to be repaired? If you've noticed any of the above boiler repair issues, consider these troubleshooting options.
If you find that the problem persists, or is too difficult to tackle on your own, call the boiler repair specialists at ProSolutions to provide boiler services in Edmonton.
Low water pressure
Common causes of low pressure include:
A leak in the system
Bad pressure tanks
Issues with a boiler part (e.g. valves, seals)
What to do:
You can check your boiler's water pressure by looking at the appliance's pressure gauge. Does it read less than 12 psi? If so, there is a pressure problem that may require a boiler repair.
At this point, you should also look for leaks.
If you find a leak, contact a professional that provides heating repairs near you, like ProSolutions Plumbing, Heating & Air Conditioning in Edmonton. 
What not to do:
Unless you're a plumbing and heating professional, do not remove anything from the boiler. Instead, call a boiler repair specialist as boilers can be dangerous when pressure regulation is a problem.
No heat being distributed
A lack of heat from your boiler can be caused by:
Faulty or broken parts (e.g. airlock, diaphragm, valves, thermostat, etc.)
Low pressure/bad pressure tank
Pump problems stopping or limiting the flow
Bad zone valves
Your thermostat being turned down
What to do:
First off, check your thermostat. As simple as it may be, many times this issue is caused by the household thermostat being turned down or off.
Next, check your boiler's pressure gauge. If it reads below 12 psi, then you are likely not getting heat because of a pressure issue. In this case, you need to call a local boiler repair company for assistance.
What not to do:
Do not attempt any repairs that you are unsure about.
If you've checked your thermostat and the pressure valve and neither appears to be causing the problem, contact the Edmonton heating services team at ProSolutions.
Banging or gurgling noises
If you hear unusual banging or gurgling noises coming from your boiler, this may be because:
Your pipes are not fitting together properly
The boiler pump is failing
The water pressure is low
There is a buildup of limescale in your boiler
There is air in the system
What to do:
Call an experienced boiler repair service provider to help you with this issue.
What not to do:
While these issues can be fixed quite easily by a professional, if you begin tampering with parts in the system it may cause more harm than good.
Pilot light keeps going out
If you notice that the pilot light on your boiler has gone out it could just be caused by a draught in your home. However, if this continues to happen, it could be due to several more concerning issues including:
Water leaking from corrosion
An issue with the gas
Faulty thermocouple
Bad flame sensor
Bad ignitor
What to do:
If you are somewhat knowledgeable in this area and feel comfortable doing so, try reigniting the pilot light. Refer to the instructions in your boiler manual for details on how to do this.
Here are the online manuals of some of the most popular boiler brands:
What not to do:
If you're unsure what is causing this issue, contact a local heating company to help you solve the problem.
If you notice a leak, believe there is an issue with the gas or suspect a faulty part, do not tamper with your boiler. Call a trained professional who can help you safely and effectively solve the issue.
Pilot light isn't blue
The pilot light on your boiler should always be blue. If it's not, this is most likely caused by:
An issue with the amount of oxygen being received
Problems with gas mixtures, including carbon monoxide
What to do
In this circumstance, you will want to have a professional evaluate the problem and complete the boiler repair.
What not to do
Unless you are a trained professional, do not try to make any repairs that relate to gas. When handled improperly, deadly situations can arise.
Instead, call a local professional like ProSolutions Plumbing and Heating to help you assess the situation and offer solutions.
Water leak
A leaking boiler can be caused by several things:
Issues with an internal part (e.g. pressure valve, pump seal)
Corrosion in the tank or pipes
What to do
If you notice that your boiler is leaking, you will need to seek professional help.
To assist the boiler repair technician, you can try to determine where the leak is coming from. This will help them identify the issue and decide what boiler repairs are necessary.
What not to do
Unless you know what you are doing, do not try to repair or replace any internal components of your boiler. This is a job that is best left to the professionals.
Frozen condensate pipe
You might be wondering – what is a condensate pipe?
A condensate pipe transports the excess water (condensation) in your boiler to a drain inside or outside your home depending on where you live.
In cold climates, like Alberta in the winter, a frozen condensate pipe is a common boiler issue. The condensate coming through the pipe freezes in the cold air and causes a blockage in the pipe.
You might find that this happens frequently if your condensate pipe:
Wall insulation near boiler is poor
Boiler is locked out and non-operational for too long during a cold snap
Exits into a cold space in the basement or a garage, etc.
If your boiler's condensate pipe becomes frozen and the problem is not fixed, it can lead the system to break down.
What to do
You should be able to fix this issue by defrosting your condensate pipe.
We recommend creating a "tent" over the area you are trying to warm, get a space heater into the tent, and let it run. The slow warming and the confined area will melt the blockage slowly and possibly prevent damage to your pipes.
For a more long-term solution, consider insulating the pipe.
Not sure where the condensate pipe is?
Typically, your boiler's condensate pipe will be a white or grey plastic pipe. You will find it exiting the bottom of the boiler, draining to the floor drain or condensate pump.
In some installations (depending on your location) you may find the condensate pipe on the other side of the wall (outside) from where your boiler is located.
What not to do
If you attempt to defrost your condensate pipe using hot water, do not use boiling water. This can cause damage to the pipe.
If you're not comfortable dethawing the pipe yourself, or you're not sure that this is causing the issue, check with your local heating company.
Boiler not responding to the thermostat
If your boiler is not responding to the thermostat, this may be because:
The time has recently changed and your thermostat is no longer set properly
Your thermostat controls and functions are broken
What to do
First, try replacing the batteries. All too often this is the issue. If this is not the case, contact your local heating and plumbing company for assistance.
What not to do
Don't tamper with the electrical wiring or any technical component of your thermostat or boiler unless you are a trained professional. This can be dangerous and may even lead to more serious problems. Contact a professional who can help you with the job.
Edmonton boiler repair
Regular boiler maintenance can help prevent many of the common issues above.
ProSolutions offers convenient Service Partner Plans that will help you keep on top of regular maintenance and boiler repairs. Plus, as a valued member, you'll receive 15% of all our services.
Need help now?
ProSolutions PHAC Inc. specializes in boiler repair. Our trained technicians are familiar with all of the top boiler brands and can help diagnose and repair any problems you're facing. 
Contact us today and we'll have your boiler back up and running in no time.
Don't take it from us!
ProSolutions Plumbing, Heating & Air Conditioning Inc. has been voted the #1 Boiler Repair Company in Edmonton by Best in Edmonton.
We're excited to be recognized by our community as the go-to provider for boiler, heating, air conditioning, and plumbing needs.
Our team will continue to work tirelessly to offer you the best and most efficient service – all at a great price and with a friendly smile.