If you're looking for a top-of-the-line furnace for your Edmonton home, you're looking for Trane. Trane products, including Trane furnaces and air quality solutions, are some of the best on the market. For homeowners in Edmonton, Trane furnaces are ideal, as they offer reliable, efficient, and effective heating throughout the winter.
To help you learn more about Trane products before you buy, our expert Edmonton heating services team has compiled everything you need to know about the brand.
Let's take a look at Trane and if it's the right HVAC brand for you.
General Trane Furnace Questions
Are Trane furnaces good?
Are Trane furnaces quiet?
How much do Trane furnaces cost?
What is the average life of a Trane furnace?
Trane Products vs Other Brands
Is Trane or Carrier better?
Is Trane the same as RunTru?
Who sells Trane Furnaces in Edmonton?
General Trane Furnace Questions
It's important to do your due diligence before buying a new furnace, or any new home appliance.
To help you with your research into Trane products, the furnace specialists at ProSolutions PHAC have answered the most common questions asked about Trane furnaces.
Don't see the answer to your question below? Give us a shout – we'd be happy to answer it!
Are Trane furnaces good?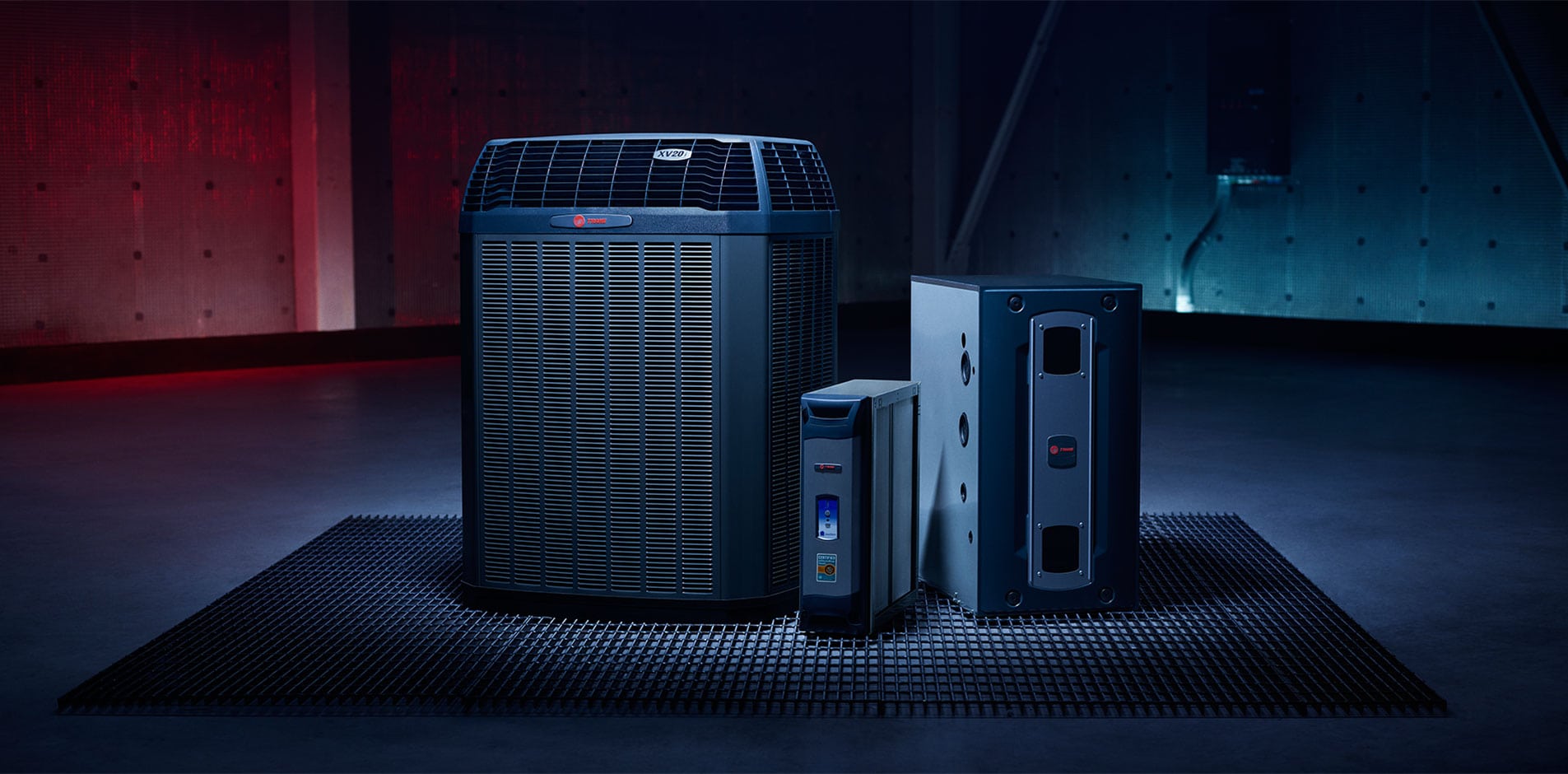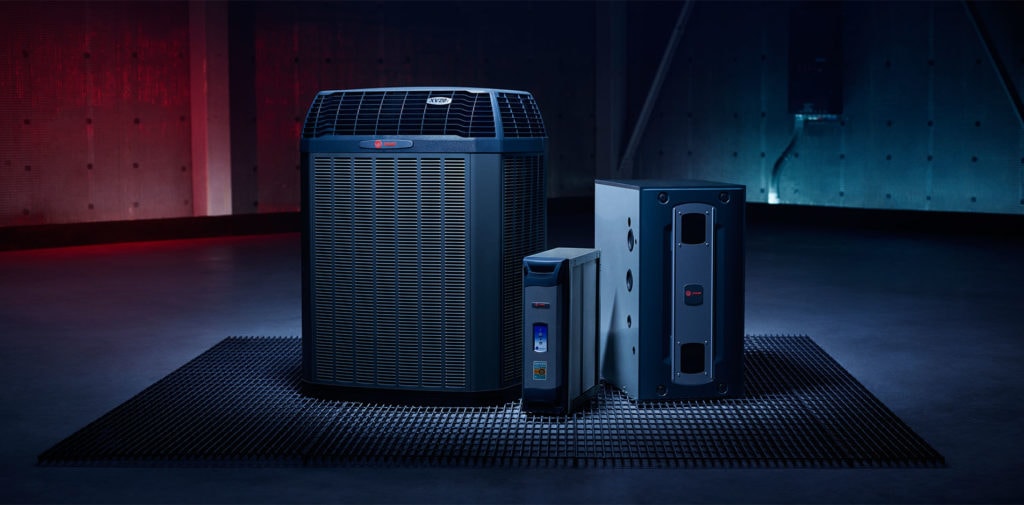 Yes, Trane furnaces are a great option for Edmonton homeowners!
In general, Trane products are reliable and effective – particularly important traits when it comes to freezing cold winters in Alberta. Trane furnaces are also efficient and competitively priced. As a result, the Trane brand comes highly recommended by heating professionals in Edmonton, including ProSolutions PHAC.
Trane gas furnaces are the best option for Albertans. Gas furnaces are extremely efficient and reliable. This is one they are the most popular type of furnaces in the province.
In addition to Trane, our furnace experts also recommend the following brands:
Goodman
RunTru by Trane
Amana
AirEase by Lennox
Ducane
Are Trane furnaces quiet?
When compared to other top brands like Amana and Goodman, Trane furnaces are comparable in noise level.
What makes some furnaces louder than others? It comes down to quality. A furnace's blower motors and fans create noise when it's running. On the other hand, its cabinet and insulation help to reduce this noise. The better quality these parts are, the quieter your furnace will be.
Trane products are known for their high-quality parts. As well, Trane is continually improving its technology and implementing new features to improve efficiency and reduce noise. Currently, the quietest Tran furnace on the market is the S9V2-VS. This unit's heavy steel insulated cabinet helps to muffle noise, allowing it to run quietly in the background.
How much do Trane furnaces cost?
The cost of a Trane furnace depends on several factors such as size, model, features, etc. However, on average, homeowners in Edmonton can expect to pay anywhere from $1,800 to $6,000 for a new Trane furnace.
When it comes to furnace installation, the average cost to hire a professional Edmonton furnace installation service company is approximately $500 to $1,500. Therefore, the total cost to install a new furnace in Edmonton will be about $2,300 to $7,500.
Although professional installation will cost more, it is extremely important – especially in a cold climate like Edmonton. Having HVAC experts, like ProSolutions, install your Trane furnace will ensure it works efficiently and effectively throughout the winter. Plus, professional installation will save you time and money in the long run.
Keep in mind, ProSolutions PHAC often offers deals on furnace installation. So, be sure to check out the coupons on our site!
What is the average life of a Trane furnace?
Like most quality, high-efficiency furnaces, Trane furnaces will last fifteen to twenty years. Of course, this depends on how well the furnace is maintained, in addition to how it was installed.
Poorly maintained furnaces are much more likely to have major issues, resulting in a shorter lifespan. Therefore, it's important that you invest in regular upkeep and maintenance. Be sure to stay on top of minor furnace repairs and tune-ups.
If you'd like to maximize the life of your furnace but don't want to have to put a lot of thought into scheduling regular maintenance, a furnace service plan is a great option. With a plan like ProSolution's Service Partner Plan, you'll never have to worry about calling to schedule maintenance. Our team will take care of everything – including reminding you when your furnace should be serviced.
Proper installation is also important to longevity. When installing a quality furnace, like a Trane product, professional installation is essential. The key here is to hire a local heating company that will know how to properly install and calibrate your furnace for the local conditions. Most importantly, be sure to hire a professional. This will protect you from added costs due to poor installation down the road.
Trane Products vs Other Brands
Edmonton homeowners have several furnace brand options. Let's take a look at how Trane products stack up against the competition.
Is Trane or Carrier better?
Trane and Carrier are both considered top HVAC brands and are very similar in a number of ways. Both Trane and Carrier make similar products including ACs, furnaces, heat pumps, air quality solutions, smart thermostats, etc.
When it comes to furnaces, both brands manufacture variable-capacity, two-stage and single-stage options. The efficiency of Carrier and Trane products are similar as well. Trane's most efficient furnace has an AFUE rating of 97.3%, while Carrier's has a rating of 98.5%. These furnaces come with the same warranty – a limited lifetime warranty on the heat exchanger and a 10 year (with registration) limited warranty on functional parts.
Despite these similarities, Trane has, over the years, differentiated itself through quality. Both brands use similar materials in the production of their products, including aluminized steel and stainless steel for their heat exchangers. However, unfortunately, Carrier has recently experienced issues with its manufacturing. This has resulted in an above-average rate of heat exchanger failure.
A cracked heat exchanger can allow carbon monoxide (CO) to leak into your home – a potentially deadly issue. Therefore, until Carrier can address its manufacturing issues, we recommend our clients stick with Trane furnaces vs Carrier furnaces.
Is Trane the same as RunTru?
Many people confuse RunTru vs Trane. This is because RunTru is made by Trane.
Like Trane, RunTru products are thoroughly tested and extremely reliable. RunTru furnaces, and other products, are developed, examined and assembled at Trane's factories in the United States. While a commitment to quality and reliability has been passed down from Trane to RunTru, the two brands are not identical.
RunTru was developed by Trane to fill a gap in the market. This gap – the need for quality HVAC systems that are more cost-effective. Unlike Trane, RunTru is a value brand. To provide this value, RunTru includes fewer premium features in its models. For example, Trane furnaces are painted, while RunTru units are galvanized. Although RunTru products are often more affordable than Trane products, quality manufacturing is not lost.
Best Trane Furnaces for Edmonton Homeowners
When you're looking for the best Trane furnace, you'll need to consider what you value most.
There are three reliable furnaces that we recommend for Edmonton homeowners. The one that is best for your home depends on what you're looking for.
Best Value – Trane S9X1
Gas furnace
ENERGY STAR certified
Rated up to 96% AFUE
Single-stage motor

Most Efficient – Trane XC95m
Gas furnace
ENERGY STAR certified
Rated up to 97.3% AFUE
Quiet operation
Variable-speed blower motor (modulating)
ComfortLink™ compatible (smart technology for optimal performance)

Quietest – Trane S9V2-VS
Gas furnace
ENERGY STAR certified
Rated up to 97% AFUE
Noise reduction technology
Variable-speed blower (2-stage)
Looking to qualify for Edmonton's Home Energy Retrofit Accelerator Program (HERA)? Both the Trane S9V2-VS and Trane XC95m models will allow you to meet the requirements for the furnace rebate!
Once you've settled on a furnace model, it's time to consider other home comfort options. Air quality products, in particular, can help take home comfort to the next level by providing clean, fresh indoor air. Let's take a look at some of Trane's quality options.
Trane Products for Air Quality

Let's face it – we spend a lot of time indoors, especially during the winter. Therefore, it's important that the indoor air we're breathing is fresh and clean. To help protect the health and safety of you and your family, Trane has developed several indoor air quality products.
For Edmonton homeowners who would like to improve the indoor air quality in their homes, we recommend the following Trane products.
Trane CleanEffects™ Air Cleaner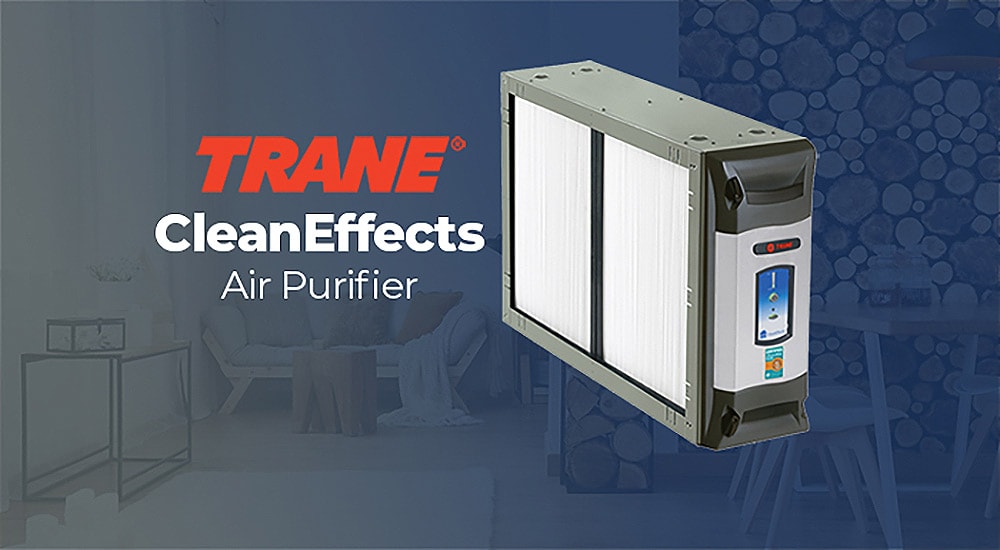 For air purification, we recommend the CleanEffects™ Air Cleaner. This Trane air cleaner provides advanced indoor air filtration for maximum home comfort. This product is 100 times more effective than a standard HVAC filter, removing up to 99.98% of dust, allergens and other airborne particles from your indoor filtered air. Best of all, this product uses easy-to-clean, reusable filters.
All of the Trane furnaces recommended above can be combined with the CleanEffects™ Air Cleaner to create a more comfortable and healthier home.
Energy Recovery Ventilator (ERV)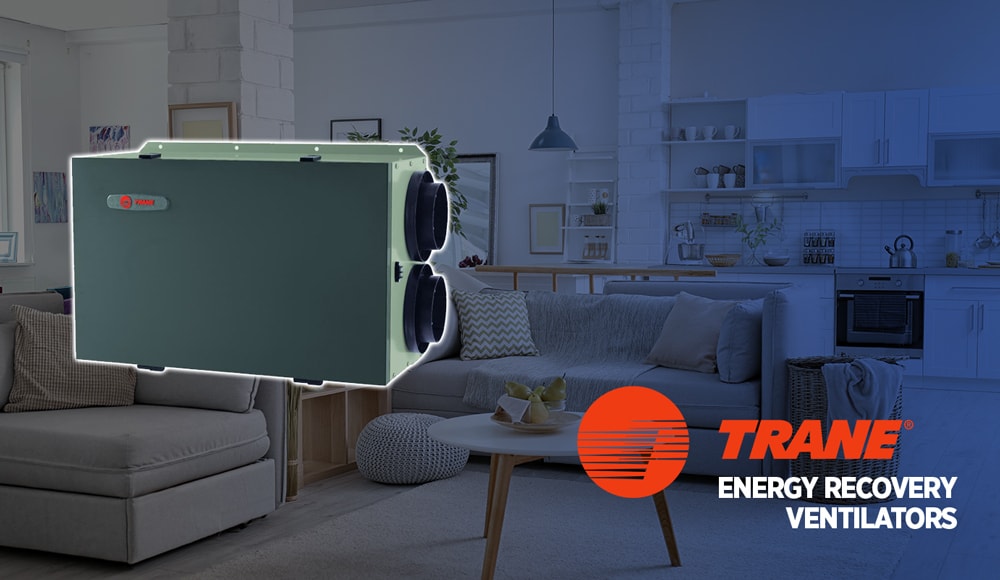 Installing a Trane Energy Recovery Ventilator in your home will also help to provide clean, fresh air. This ventilator helps to eliminate odours (e.g. cooking and pet odours) by exchanging stale air in your home with fresh air from outside.
The Energy Recovery Ventilator will also automatically adjust depending on the season. As a result, heat and moisture will be retained during the winter and removed from incoming air in the summer.
Envirowise Power Humidifier
When it comes to cold, dry Alberta winters, a warm home is just one aspect of your comfort. Adding a whole-home humidifier, like the Envirowise humidifier, will help to balance the humidity throughout your home.
Looking for home comfort beyond compare? Pairing your Envirowise Power Humidifier with a Trane CleanEffects™ Air Cleaner will provide clean, fresh air all year round.
Who Sells Trane Furnaces in Edmonton
ProSolutions PHAC is Edmonton's top-rated dealer for Trane furnaces.
Our dedicated team is made up of local Edmonton residents. As a result, we can help you choose the perfect Trane furnace for your home based on our knowledge of the local climate. Plus, our experienced HVAC technicians make ProSolutions a one-stop-shop for ultimate home comfort. After we help you choose the perfect Trane products, our heating experts will install your furnace and calibrate it for the conditions. You'll experience maximum comfort, epic efficiency, and have a reliable home service company that's just a phone call away. As we like to say – "1 Call Solves It All".
Don't forget to check out our frequent promotions on furnaces, installation, and more!