Shopping for a new AC is no easy task. There are many things you'll want to take into consideration before making your big purchase. Brand, price, how effective the system will be at cooling your home and which AC installation contractor you'll use are all important factors. Choosing the right AC unit can make or break how comfortable you are in your home, especially during the hot summers in Edmonton.
In addition to the common considerations mentioned above, there are several other important questions you should ask when shopping for a new AC. These questions include:
However, the most important thing you can do in order to ensure you make the right choice is to use the best contractor for the job. The day your AC is installed is the most important in its lifecycle. If the job isn't done right, many things can go wrong.
With the help of a professional AC install contractor like ProSolutions Inc., you can ensure that you'll experience all the benefits of a properly installed, effective and efficient AC.
Is AC a good investment?
In addition to increasing the value of your house, a good AC system is essential for a happy, healthy, comfortable home.
The summers get hot here in Edmonton, and an air conditioner will provide a cooler and much more comfortable interior climate. In addition to keeping your home at a cool and comfortable temperature, air conditioning also has several other benefits:
Increased air circulation
Reduction in humidity
Removal of harmful airborne toxins and allergens
When shopping for a new AC, it's assumed that the newly installed system will work without a hitch, providing all of the benefits above. However, this isn't always true. There is lots that can go wrong, so the contractor you choose to install your AC is critically important!
What could go wrong?
When it comes to AC installation, proper installation can mean the difference between a perfect climate within your home or a faulty and inefficient system. If your unit isn't properly installed, this can lead to:
Reduced efficiency
Higher energy costs
Shorter product lifespan
High humidity
Poor air circulation
Pollutants and allergens in the air
In addition to hiring an experienced and professional contractor, you'll need to find an AC unit that best suits your needs.
Here are some questions that will help you determine what system will be best for you and your home.
6 questions to ask when getting an AC installation quote
If you're wondering to yourself – What should I look for when buying an air conditioner? We can help!
Here are six important factors to consider when shopping for a new AC and getting an AC installation quote.
Size Matters - What size AC do I need for my home?
Why is size important? Well, other than the problem of having a system that is too small and unable to cool your entire home, you can also have a unit that is too large!
An air conditioner that is too small will have to work overtime to try and cool your home – increasing energy consumption and costs. On the other hand, a unit that is too big will have a shorter lifespan and will waste energy (and money) because it will turn on and off so regularly.
If you're not too sure how big your unit should be, have no fear, a top AC contractor like ProSolutions Inc. can help.
Interestingly, when the very first AC systems were introduced, their output was measured in Ice Power – or how many blocks of ice it would take to cool the same amount! Rather than estimating how many ice blocks it will take to cool your home, a good AC install contractor will determine what tonnage (the amount of heat that a unit can remove from a home in one hour) will be best for your home. A load calculation can determine this. This calculation uses factors such as the size of your home, Edmonton's climate, the number of appliances you have, etc. to determine what size AC your home will need.
Getting SEERious – What is the system's SEER rating?
When it comes to AC, efficiency is the key to a cool, comfortable home and a reasonable energy bill.
An AC unit's efficiency is measured by its SEER rating (Seasonal Energy Efficiency Ratio). In Canada, a high-efficiency model, and one that is ENERGY STAR qualified, must have an EnerGuide SEER rating of 12+ for a single-package unit or 13+ for a split system.
Purchasing a high-efficiency unit with a high SEER rating may cost a little bit more initially, but in the long run, it will save energy and money! The higher the SEER rating, the more efficient your unit will be – so spend the money upfront and buy a unit with the highest SEER rating that you can afford.
To learn more about SEER and what it means, check out What does SEER stand for? on our FAQ page.
Consider the Climate – Is this unit suitable for Edmonton's climate?
Climate can play a significant role in how capable your new AC unit is at keeping your home comfortable.
One of the most important factors affecting the comfortability of your home is humidity. Too much humidity can be very uncomfortable – but so can too little. Excess condensation, moisture damage and mould can result from too much humidity. On the other hand, a dry nose, throat and skin, and increased static, can result from too little humidity.
Here in Edmonton, the summer months can bring lots of humidity, which can become a problem in many homes. Due to this humid climate, it's important to consider an air conditioner's ability to control humidity.
As a homeowner in Edmonton, hot summers mean you'll want to ensure you purchase a central AC capable of cooling your entire home. If you want to be comfortable in every room of your house, the SEER rating of your AC unit will be extremely important. In our hot summer climate, efficiency is key – therefore, the higher the SEER rating, the better for Albertan households.
An experienced air conditioning contractor that is based in Edmonton can be very helpful in this case. Contractors like ProSolutions Inc. will ensure your AC unit can meet the needs of your household and the surrounding climate.
How Smart is Your AC - Does the unit offer smart home integration?
Do you currently have or want a smart home? Then your AC unit should be capable of smart home integration.
Amana, for example, offers air conditioners that are compatible with ComfortBridgeTM technology. This allows you to control your system from your phone and, better yet, for your system to learn and make changes to your homes' temperature in order to be the most effective and efficient that it can be - saving you money.
Make sure you ask this question to ensure your air conditioner provides all the capabilities you're looking for.
Watch for Warranty - What parts and installation warranty comes with my AC?
When you make an expensive purchase, you want to make sure it comes with a great warranty. Warranty that covers both parts and installation.
Most professional AC contractors should offer a warranty on both parts and installation. ProSolutions, for example, offers a comprehensive parts warranty (10 years on high-efficiency models). In addition, they offer a ten-year extended labour warranty on air conditioning units.
Managing Maintenance - What maintenance is recommended for my unit?
Make sure you check in with your AC contractor as to what type of maintenance your AC unit will need. As well, ask about the maintenance plans they offer.
Regular tune-ups ensure your system runs efficiently, that it lasts as long as possible and that your warranty remains valid. Your AC install contractor should be able to help you select the right maintenance plan for your system.
In order to keep on top of your unit's maintenance needs, ProSolutions Plumbing, Heating & Air Conditioning offers service plans and reminders about upcoming maintenance. With each maintenance visit, their highly-skilled technicians will run through a complete checklist to ensure your system is working efficiently and effectively! As a Service Partner, you'll also benefit from 15% off of any services provided.
By committing to regular maintenance, you can ensure that your system will run effectively and efficiently for years to come. After all, an air conditioning system is one of the most expensive appliances you'll ever buy and the most costly to run – especially if it's not running efficiently!
A professional AC install contractor is the key
The questions above can help you select the perfect AC for your home. However, the most important choice you'll need to make is who you'll trust to install your AC. Even if you ask all the wrong questions, the right home AC installation company will provide you with a quality product and installation that is perfect for your needs. On the other hand, an inexperienced contractor might not provide the best product, even if you ask the right questions.
The installation of your unit is key, as this will determine how well your air conditioner runs. If your unit isn't installed properly, it may not be effective. As a result, its inefficiency may cost you an arm and a leg in energy bills. With such an expensive purchase, it's best to get the job done right – the first time.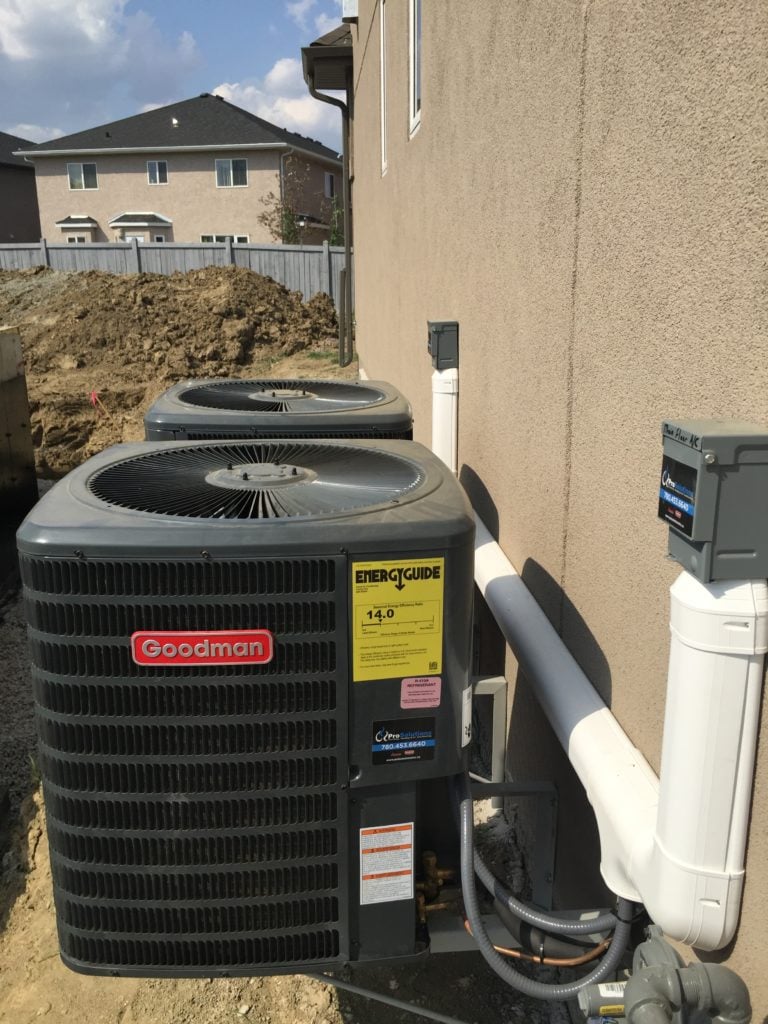 Although it may cost more to have a trained technician install your AC, it'll save you in the long run. A professional AC install contractor will be able to ensure that:
You purchase the right size AC for your home
You choose a unit with the best SEER rating you can afford
The AC unit can meet the needs of the climate you live in
The unit has the ability to offer all the functionality you're looking for
You receive a great warranty on both installation and parts
You have a maintenance plan that will keep your system in top shape for years to come
When shopping for a new AC, it's recommended you contact several professional AC contractors for an AC installation quote. If you're in Edmonton, contact ProSolutions. We'd love to show you how our professional and highly-skilled technicians can help you choose and install the perfect AC unit for your home.