When it comes to buying a new furnace in Edmonton, there are many brands to choose from. AirEase by Lennox is one of the best. AirEase furnaces are not only backed by one of the most popular and established HVAC manufacturers in North America, but they're also reliable, efficient and affordable.
Not sure if this brand is right for your home? Here are the facts that will help you decide.
Is AirEase made by Lennox?
Is AirEase as good as Lennox?
Are Lennox parts hard to get?
What is better Lennox or Carrier?
Is Lennox better than Trane?
What brand of furnace is the best quality?
Best AirEase furnaces
Where can I buy an AirEase furnace in Edmonton?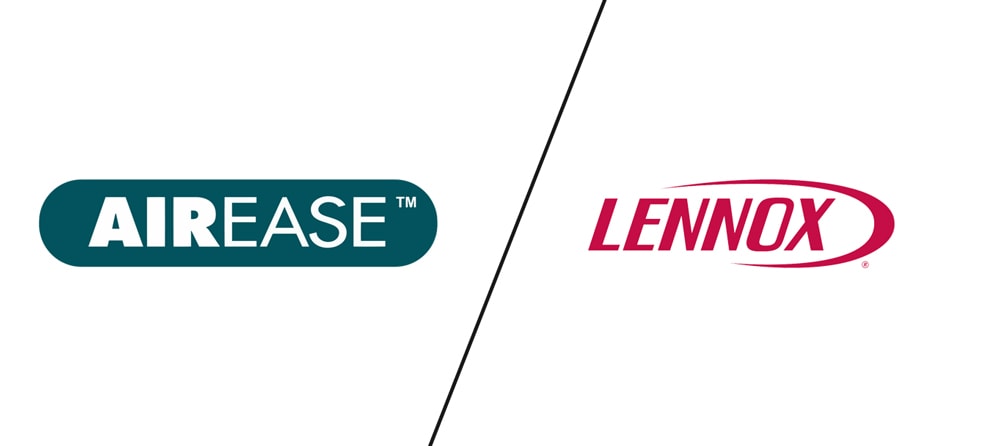 Is AirEase made by Lennox?
Yes, AirEase is made by Lennox and is part of the Allied Air Enterprises group of brands. This family of brands also includes Armstrong Air™, Concord, Ducane™, magic-pak™ and Allied™ Commercial.
AirEase was first developed in Columbus, Ohio almost 100 years ago! Lennox created this brand as a high-quality and cost-effective alternative to its heating and air conditioning products.
Lennox is one of the top furnace manufacturers in North America. It is also one of the most popular brands among households in Alberta. As a result of its affiliation with Lennox, AirEase is also a highly reliable and trusted HVAC brand. In fact, many heating services providers in Edmonton, including ProSolutions PHAC, recommend AirEase furnaces, air conditioners and other home comfort solutions.
But, what exactly is the difference between this brand and Lennox? And is AirEase as good as Lennox for Edmonton homes? Let's take a look.
AirEase vs Lennox
Due to the fact that AirEase is made by Lennox, the two HVAC brands offer very similar products. Both are highly dependable for homes in Alberta. As well, each brand offers a wide range of products to suit different needs and budgets. That being said, the biggest distinction between AirEase vs Lennox is price.
AirEase furnaces, as well as the brand's other HVAC products, are often more affordable than Lennox. Lower-end Lennox furnaces may be on par with AirEase prices, however, AirEase offers more affordable products across the board. Most importantly, this affordability is offered without sacrificing quality or dependability. This is why so many Alberta homeowners trust their home comfort to AirEase appliances.
Are Lennox parts hard to get?
What if your furnace has an issue? Will the parts be hard to get in Edmonton?
Like Lennox, AirEase furnaces and parts are made in the USA. This makes them readily available and easy to get, in most cases. Unforeseen circumstances, like parts shortages, delayed delivery times, etc. can undoubtedly impact the ability to obtain parts in a timely manner. However, for the most part, AirEase and Lennox parts are not hard to get.
Edmonton has several AirEase dealers, including ProSolutions PHAC. As a result, Edmonton homeowners can quickly and easily get replacement parts through these companies. ProSolutions is also a professional Edmonton furnace services provider and can install replacement parts on these furnaces.
What is better Lennox or Carrier?
Lennox and Carrier are very comparable furnace brands. Both offer a number of home heating solutions, including furnaces that meet the needs, and budgets, of all households. AirEase by Lennox is also comparable. However, being a more affordable solution, most AirEase furnaces do not offer the same features as high-end Lennox and Carrier products. For example, standard AirEase HVAC systems do not include the advanced technology offered by Lennox and Carrier. Keep in mind, additional features come with a higher price tag and may not be necessary for all households.
When it comes to efficiency, Lennox has been dedicated to manufacturing energy-efficient products for many years. In fact, until just recently it held a clear advantage in this area. However, Carrier and other HVAC brands have started to take note and developed more efficient models.
Today, Lennox still offers the most efficient furnace. The Lennox SLP99V Variable Capacity Gas Furnace has an efficiency rating of up to 99%. On the other hand, Carrier's most efficient furnace is rated up to 98.5% AFUE and AirEase's top furnace has a rating of up to 97%. Keep in mind, these are the top-of-the-line options for each brand. Overall, most Lennox and AirEase furnaces have an AFUE of 80% to 96% and most Carrier furnaces are rated above 96%.
Another important factor to note when comparing AirEase vs Lennox vs Carrier is common issues with heat exchangers. Homeowners in Edmonton have recently experienced issues with Carrier heat exchangers. A cracked heat exchanger can lead to disastrous results such as accidental carbon monoxide (CO) poisoning.
In addition to Carrier, GFA, TUA, and Weathermaker furnaces have also commonly had issues in the Edmonton area. As a result, the heating experts at ProSolutions PHAC recommend steering clear of these brands until the issue can be amended.
Is Lennox better than Trane?
Lennox and Trane also manufacture similar heating and cooling appliances. In fact, Lennox and Trane are considered premium HVAC brands. As a result, both offer reliable, quality furnaces that will keep your home comfortable throughout the winter. Like Lennox, Trane offers various classes of furnaces, from high-end, feature-rich options to more affordable, entry-level solutions.
AirEase by Lennox also offers similar quality and reliability but at a more affordable price. When compared to AirEase, Trane is a higher-end brand. Trane products offer more features and technology. However, this also means that they come at a higher price.
When deciding what furnace brand is best for your home, the most important thing to consider is which product best suits your needs. Be sure to weigh features, efficiency, and price.
Keep in mind, when it comes to efficiency, the brand you choose is not nearly as important as installation. Of course, if you are looking for high-efficiency, you'll need to buy a new furnace that has a high AFUE rating. However, once you have that covered, furnace installation is what really matters. According to ENERGY STAR, incorrect installation can reduce efficiency by up to 30%! As a result, you'll experience higher utility costs and a negative impact on the product's lifespan. Therefore, hiring a professional furnace installation team in Edmonton is extremely important to ensure your furnace runs efficiently and effectively.
Best Furnace Brands
There are several quality furnace brands that the Edmonton heating and air conditioning technicians at ProSolutions PHAC recommend. Among these is AirEase by Lennox. This brand is known for quality and affordability. Better yet, AirEase furnaces are reliable and efficient, with the brand's top furnace having an AFUE efficiency rating of up to 97%.
Some of our other top furnace choices for Edmonton homeowners include:
Trane
RunTru by Trane
Ducane
Amana
Goodman
If you've decided an AirEase furnace is right for your home, it's time to pick a model. Below are our suggestions for the top AirEase furnaces.
Best AirEase Furnaces
AirEase offers a wide range of furnaces, including both gas and oil. At ProSolutions, we recommend gas furnaces for Edmonton homeowners. Gas furnaces are the most popular option in Alberta and come highly recommended due to their reliability and cost-effectiveness.
Below are the top three AirEase furnaces that we recommend. Which option is right for your home will depend on what features and level of efficiency you require.
Top-of-the-Line AirEase Furnaces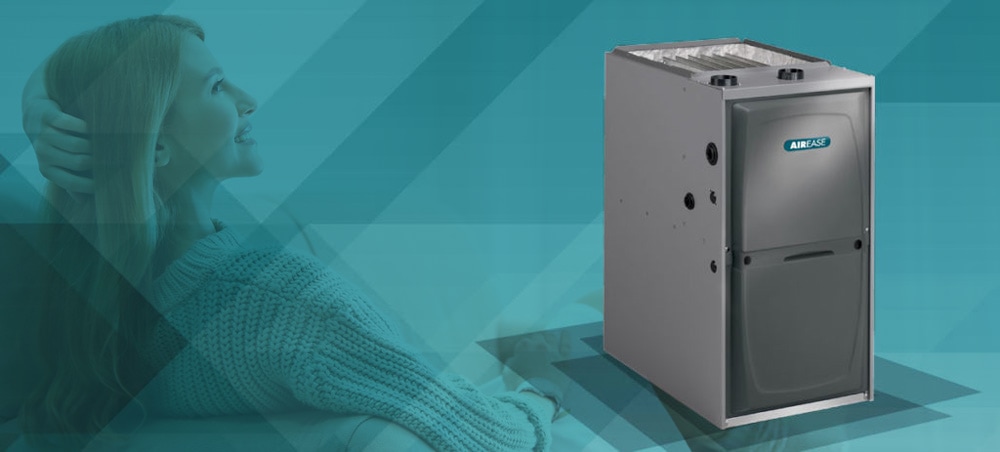 A97MV
Gas furnace
ENERGY STAR certified
97% efficiency rating
Noise reduction technology
Variable speed motor
Modulating heat
Pro Series™ with Comfort Sync® communicating thermostat compatibility (i.e. this furnace can communicate with other compatible products and can be controlled through an app. This allows for enhanced temperature control, reduced energy costs and optimal home comfort.)
Edmonton homeowners may qualify for a furnace rebate through the Home Energy Retrofit Accelerator Program if they install a new furnace that is rated 97% AFUE or higher. The A97MV model meets this requirement and can help you receive a rebate through this program.
Efficient & Reliable AirEase Furnaces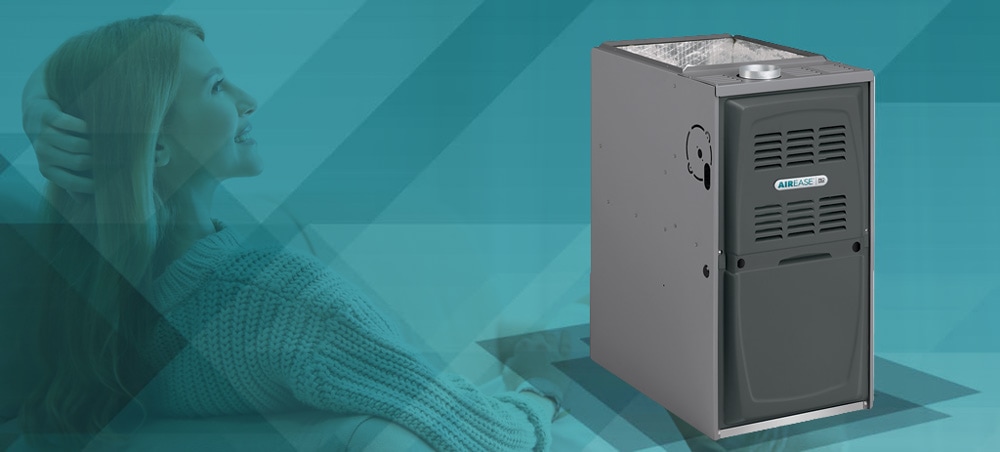 A962V
Gas furnace
ENERGY STAR certified
96% efficiency rating
Noise reduction technology
Variable speed motor
Two-stage heating
Pro Series™ and Comfort Sync® compatible
Best Value AirEase Furnaces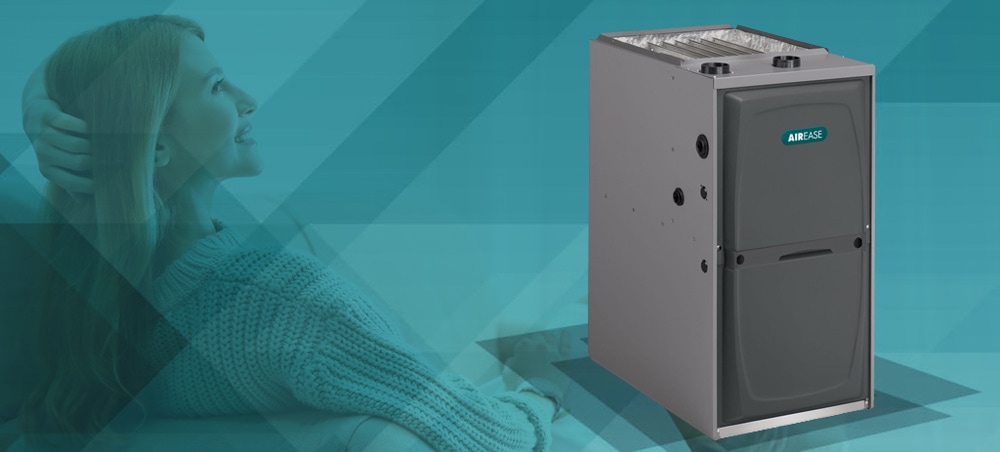 A962E
Gas furnace
ENERGY STAR certified
96% efficiency rating
Constant torque motor
Two-stage heating
Want to take your home comfort to the next level? Check out our recommendations for the ultimate AirEase Home Comfort HVAC System. This complete system will provide you and your family with maximum home comfort – no matter the season.
Where to Buy AirEase Furnaces in Edmonton
Looking for AirEase furnaces in Edmonton? ProSolutions can help.
ProSolutions is a top-rated AirEase dealer in Edmonton. Years of experience in the heating and air conditioning industry have taught us exactly what brands provide the most value to our customers. Not only will our HVAC professionals help you choose the best furnace for your home, but our trained technicians will properly install your new furnace for optimal performance and efficiency.
Give us a call today to get started! And, be sure to check out our furnace coupons for deals on furnace installation, maintenance and service.