The weather is heating up and that means so is your home. If you're in the market for a new air conditioner, now is the time to make your move. AC season is nearly upon us. Therefore, it's helpful to get a jump start before Edmonton AC installers are swamped! To help you choose the best air conditioner for your home, our team of AC experts has put together a list of the best AC brands for 2021.
Some air conditioner brands are better than others. With so many options to choose from, we're here to set the record straight. So, let's get to it.
What makes a good air conditioner?
Best AC brands on the market
What Makes a Good AC?
If you're wondering what makes a good AC for Alberta homes, check out our air conditioner buying guide. It will walk you through the most important factors to consider when buying a new AC. This includes types of air conditioners, required maintenance and how to find the best air conditioning contractor in Edmonton.
Regardless, the most important aspects to consider when buying an AC are functionality and price. The best air conditioner is the one that is affordable and works the best for you.
Keep this in mind while you check out these top AC brands for 2021.
Best Air Conditioner Brands
After years of servicing and installing AC units, as well as purchasing them for our own homes, we know a thing or two about air conditioners. The very best AC brands offer a variety of options, all of which are efficient and durable. Our top picks are tried, tested and well-liked by consumers.
AirEaseTM by Lennox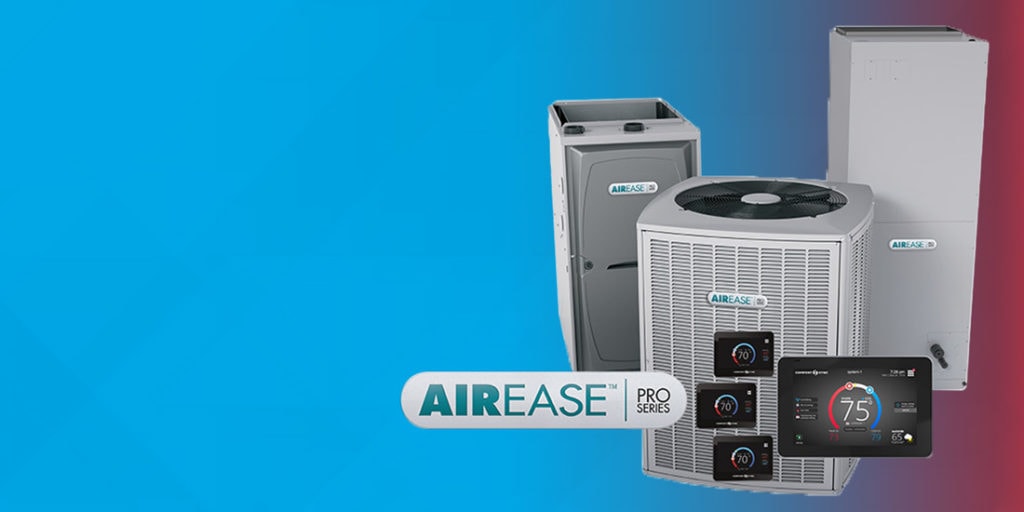 AirEaseTM is a trusted and reliable AC brand. With more than 10 years of research and development invested in their products, AirEaseTM provides some of the best air conditioning units on the market.
AirEaseTM air conditioners integrate Omniguard™ features, including:
Total Corrosion Protection Technology – this feature offers protection against coil corrosion, for a durable and long-lasting AC unit.

Antimicrobial drain pan – this provides cleaner air coming into your home.

Optimized installation features – this includes pre-formed duct flanges, extended condensate drain and rubber plugs for faster connections and installation.

Tight gauge steel cabinet – this means less air can leak from the unit (i.e. less than 2%).
These features make for more efficient and effective air conditioning units. As well, they allow Alberta AC installers to get your system up and running faster.
The optimized design of an AirEaseTM AC also makes it more reliable and easier to service. For example, easy access to coils and a removable service panel allow for faster maintenance. Additional features, such as tube sleeves to prevent copper to copper tube rub and the use of high-quality fan blades, mean your unit will be reliable for years to come.
This promise of dependability is backed by a 10-year parts warranty, a lifetime warranty on the heat exchanger and a 98% reliability rate.
Some of AirEaseTM's best air conditioner units include:
AirEaseTM 4SCU20LX
This variable speed air conditioner has an energy efficiency rating of up to 20 SEER. In 2020, this AirEaseTM model was named ENERGY STAR® Most Efficient. As a result, it's recognized as one of the most energy-efficient products on the market.
The unit uses a variable-capacity inverter-driven scroll compressor to change speeds in small increments. This means that the system can provide consistent and precise temperatures, even during a hot Edmonton summer.
The AirEaseTM 4SCU20LX also offers Comfort Sync® compatibility. This allows homeowners to use smart features, including remote temperature control. When paired with a Comfort Sync® Thermostat, your AirEaseTM AC system will automatically monitor itself and provide optimum performance. Best of all, if a repair or AC maintenance is needed, your smart system will alert your Edmonton AC services team.
AirEaseTM 4SCU16LS
The AirEaseTM 4SCU16LS High-Efficiency Two-Stage Air Conditioner has a SEER efficiency rating of up to 16. This unit is ENERGY STAR® Certified and offers two output speeds, for maximum efficiency and minimal utility bills.
This AC unit is also compatible with Comfort Sync® thermostats for smart home capabilities. Integrated compressor protection results in added reliability and a proprietary heat transfer system provides maximum performance.
AirEaseTM 4SCU16LE
This quiet, single-stage air conditioner is also ENERGY STAR® Certified and has a SEER rating of up to 16. It provides consistent cooling for a comfortable home.
Omniguard® Total Corrosion Protection Technology ensures the longevity of this AC unit. As well, MHT™ heat transfer technology provides maximum heat transfer and efficiency.
Best of all, the AirEaseTM 4SCU16LE includes a heavy-duty compressor blanket that reduces sound for minimal noise while in operation.
RunTru® by Trane®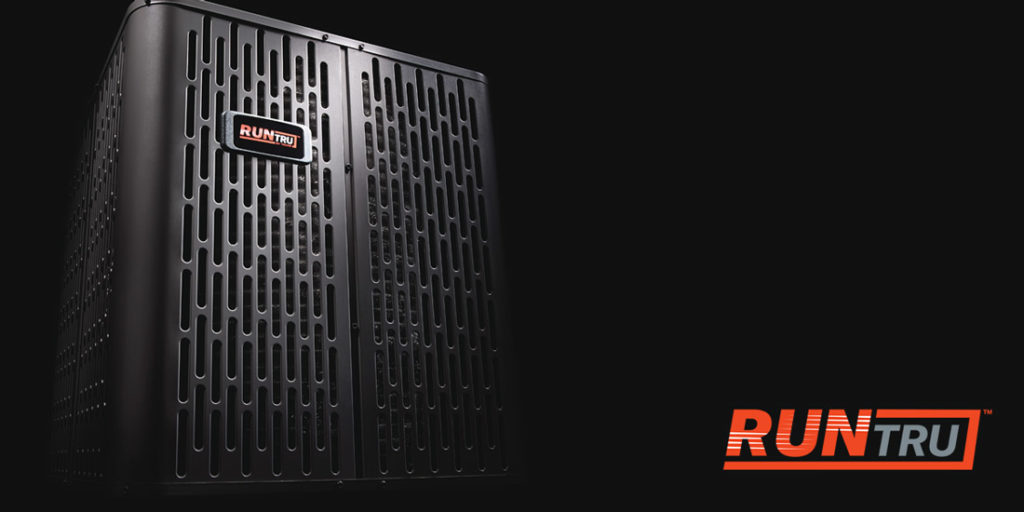 Built by Trane®, RunTru® provides high-end AC systems at a reasonable price point.
RunTru® is recommended as one of the best air conditioner brands for 2021 because of the thoroughly tested and dependable AC units they manufacture. Only high-quality components are used in RunTru® air conditioners. This results in air conditioning systems that are built to last.
RunTru®'s commitment to quality is backed by their warranty program. This program offers:
Limited Parts Warranty – this base warranty provides 5 years of protection on the functional parts in your unit.

Registered Limited Parts Warranty – register your AC system within 60 days of installation and receive 10-year coverage for functional parts (cased coils included, no registration required) and 20 years for the heat exchanger.
The AC systems offered by RunTru® include 13, 14 and 16 SEER units. All units are built in Texas and are readily accessible to customers in Alberta.
A4AC3 Air Conditioner
This AC unit has a SEER rating of 13.
Features including aluminum coils and a scroll compressor provide smooth and quiet operation. In fact, RunTru®'s A4AC3 model has a decibel rating of 74 – 76 dB.
This model is also available in smaller sizes. As a result, it can fit in tighter spaces than most air conditioning units.
A4AC4 Air Conditioner
Like the RunTru® A4AC3, the A4AC4 model has an average decibel rating of 74 – 76 dB. Therefore, it will run quietly in the background.
With an energy-efficiency rating of 14 SEER, aluminum coils and a scroll compressor, it is an efficient and reliable unit. Its compact size also allows it to fit in tighter spaces.
Above all, the fact that RunTru® models are backed by the well-known Trane® brand means that the dependability of this AC is guaranteed.
A4AC6 Air Conditioner
The A4AC6 air conditioner is RunTru®'s most efficient model. With a rating of 16 SEER, a decibel rating of 76 dB and all the additional features of RunTru®'s other models, this option is one of the best for your home comfort needs.
Trane®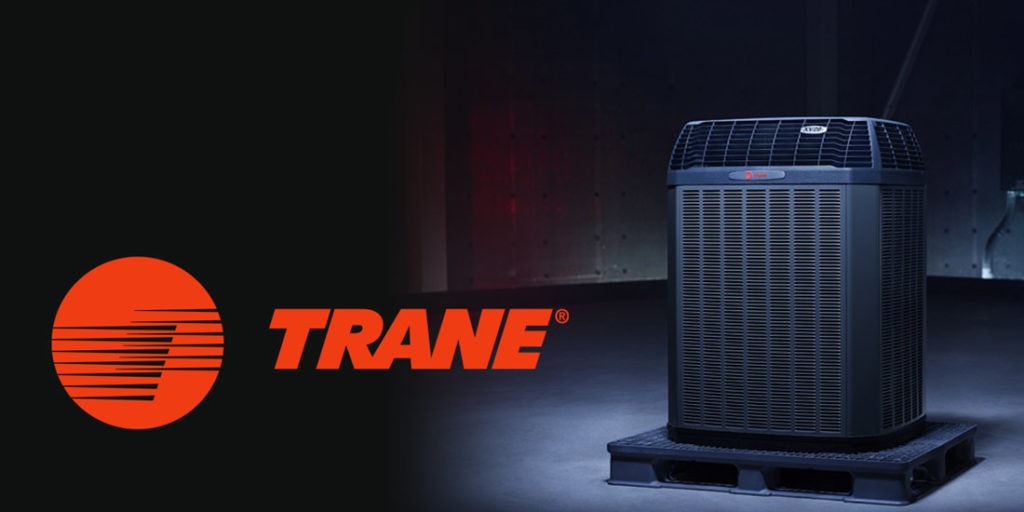 Trane® is a heating and cooling brand that has been trusted by consumers for years. Extensive testing on all of their products ensures reliability. Plus, multi-stage cooling means precise temperature control and efficient, cost-saving systems.
Trane® offers some of the most energy-efficient and best air conditioner systems on the market, with SEER ratings up to 22. To top it all off, they offer some of the quietest units available today.
XV20i TruComfortTM Variable Speed Air Conditioner
With a rating of up to 22 SEER and the lowest cost per minute, the XV20i TruComfortTM Variable Speed Air Conditioner is Trane®'s most efficient model. In fact, it's one of the most efficient air conditioners currently available.
This model offers 750 stages for maximum temperature control and efficiency. The XV20i TruComfortTM Variable Speed Air Conditioner is ENERGY STAR® Qualified. In addition, its built-in TruComfort™ technology automatically adjusts the temperature to maintain a consistent and comfortable environment in your home.
Best of all, this unit is extremely quiet, with a decibel rating of only 55 dB.
XV18 TruComfort™ Variable Speed Air Conditioner
The XV18 incorporates noise reduction technology. As a result, it is Trane®'s quietest model. In fact, this AC unit runs so quietly, you'll barely know it's there.
The XV18 TruComfort™ Variable Speed Air Conditioner also offers automatic temperature control. This is provided through Trane®'s TruComfort™ technology.
With a SEER rating of up to 18, this AC system provides the perfect balance of comfort and cost savings.
XR14 Air Conditioner
Trane®'s XR14 Air Conditioner provides the best efficiency vs value option. Even at the lowest price point, this unit is still highly efficient and ENERGY STAR® Qualified.
With a SEER rating of up to 16, the XR14 will keep your home cool and lower your utility bills.
As with all Trane® products, this air conditioner contains only components that have been thoroughly tested. This results in dependable performance and longevity.
Get the Best Value AC with ProSolutions PHAC
Ready to invest in a new AC system? Don't spend more than you need to!
With the help of ProSolutions PHAC, you'll get the best possible price on your AC unit of choice. Even without any current AC energy efficiency government rebates in Alberta, ProSolutions will ensure you receive the best price for the purchase and installation of your new AC.
Our experienced team of local AC installers will optimize your system for the weather in Alberta. Professional AC installation will also minimize potential issues down the road.
Sign up for one of our Service Partner Plans and regular AC maintenance will ensure your system is always in top working condition. This will result in maximum efficiency, a longer lifespan for the unit and minimal utility costs.
AC Financing for the Best Air Conditioner Systems
At ProSolutions, we don't want you to stress over home comfort. So, to bring you a cool and comfortable home environment, we offer AC financing through the SNAP Home Finance Program.
This Canadian-based financing company assists us in helping you provide the most comfortable home for you and your family.
Our financing plans offer economical interest rates, flexible payment options and no money down. Plus, our 1 year no payment, no interest option means you can buy home comfort now and pay later. In addition, you can rest easy with no penalties for an early payout, as well as quick and easy approval.
So, let's get you summer ready!
Contact ProSolutions PHAC today to speak with one of our AC specialists. Our team will help you determine the best air conditioner for your home and, of course, get you the best possible price.